APRSAF-29
September 19-22, 2023
Indonesia

Registration / Travel Info
Registration
Online registration has been closed.
To join the APRSAF-29, please come to onsite reception on the day well before the start of the session.
Registration Fee:
Registration after 4th September and Onsite Payment
Late Registration/Onsite Payment: 120 USD (Rp 1,800,000)
Student (up to 25 students) : 20 USD
Online Student (WG Only) : Free of Charge
Online Participation (WG Only) : 15 USD
Participants (Working Group only): 30 USD (Rp 450,000)
* No Live Streaming at the Plenary Sessions
Cancellation policy
(1)

70% refund for cancellation on or before 22 August 2023

(2)

NO refund for cancellation on or after 23 August 2023

(3)

The registration badge is transferrable (If you wish to transfer your badge to another individual, please inform the APRSAF-29 Secretariat.)

(4)

NO balance will not be refunded if you convert your participation format from onsite to online.
Participants are responsible for their own travel expenses.
Registration fee is required only for the program held from 19 to 22 September at APRSF-29.
Registration fee is not required for those who will participate only for Side Events.
Visa
It is the participant's own responsibility to check whether a visa is required to enter Indonesia and acquire visa. Please check the following website or contact the embassy or a consulate in your country to ascertain whether you require a visa, and to determine the requirements for obtaining a visa if required.
VISA Information:
Information such as who needs a visa etc.:
https://imigrasisingaraja.kemenkumham.go.id/visa-on-arrival-dan-negara-bebas-visa-kunjungan/
For English translation, please click the button on the top right corner (EN).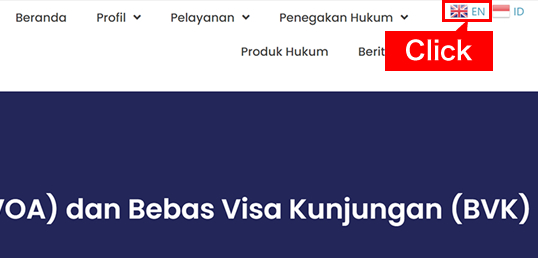 Accommodation
There are many options to stay in Indonesia, from budget to high end hotels. The followings are our recommended hotels.
The list of our suggested hotels
| | Hotel Name | Address |
| --- | --- | --- |
| 1 | Aloft Jakarta Wahid Hasyim | Jalan K. H. Wahid Hasyim No. 92, Jakarta Pusat, Jakarta, Indonesia, 10340 |
| 2 | Four Points by Sheraton Jakarta, Thamrin | Jalan M.H. Thamrin, Kav. 9, Jakarta, Jakarta, Indonesia, 10350 |
| 3 | Holiday Inn Express: Jakarta Wahid Hasyim | Jl. K.H. Wahid Hasyim No.123, Jakarta, 10240 Indonesia |
| 4 | ibis Jakarta Arcadia | Jalan K H Wahid Hasyim No 114, 10340 JAKARTA, Indonesia |
| 5 | Kosenda Hotel | Jl. KH. Wahid Hasyim No.127, Jakarta - Indonesia 10240 |
| 6 | Mercure Jakarta Sabang | Jl H Agus Salim No 11, Gambir Jakarta Pusat, 10110 JAKARTA, Indonesia |
| 7 | Millennium Hotel Sirih Jakarta | Jalan Fachrudin 3 Jakarta, Indonesia 10250 |
| 8 | Pullman Jakarta Indonesia Thamrin CBD | Jalan M.H. Thamrin Kav. 59, 10350 Jakarta Pusat, Indonesia |
| 9 | Swiss-Belinn Wahid Hasyim | Jl. KH. Wahid Hasyim No.135 - 137, Jakarta , Indonesia |
* Room reservations are the responsibility of participants. APRSAF-29 Secretariat cannot take any responsibility for issues associated with the room reservation.
* Please note that completion of the room reservations does not constitute the registration of the APRSAF-29.
International and Local Transportation
Please note that participants are responsible for making arrangements and covering the costs of their international travel to and from Jakarta as well as local transportation costs, including between the airport and the hotel and between the APRSAF-29 venue and the hotel.
Local transportation will not be provided by the organizers.
Venue Access Information
National Research and Innovation Agency (BRIN)
Address: Gedung B.J. Habibie, Jl. M.H. Thamrin No. 8, Jakarta Pusat 10340
- About 1 hour by taxi from the Soekharno-Hatta International Airport
- About 20-30 min by taxi from the recommended hotels
Weather
7 Days Local Weather Forecast
Insurance
We strongly recommend that participants arrange for their own overseas travel insurance. The organizers of APRSAF-29 are unable to take any responsibility for arrangements or costs associated with any accident, injury, or illness.