Space Applications Working Group
Objectives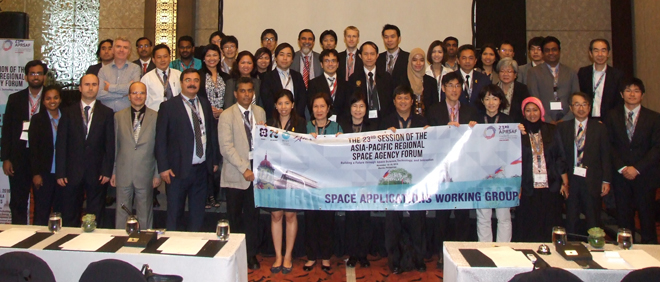 Space Applications Working Group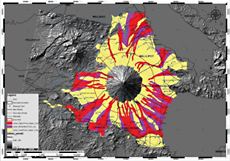 Mayon Volcano Lahar Hazard Map
The Space Applications Working Group (SAWG) discusses various space application topics that support socio-economic issues in the Asia-Pacific region, such as disaster management and environmental issues, through the use of space technology (Earth observation, communication, and navigation). The WG aims to approach regionally common issues while strengthening cooperation among space agencies, user government agencies, development aid agencies, and the private sector. As a result of the discussions in the WG, concrete international cooperative activities such as Sentinel Asia for disaster management (from 2005), and Space Applications For Environment (SAFE) for environment monitoring (from 2008) were launched.
Activities
Discussed and shared information on space applications in the monitoring of marine environments,,which is one of the most important fields in the Asia-Pacific region, as well as expanding the number of successful uses of space applications on the regional scale in the Asia-Pacific region, in cooperation with international organizations;
Realized the importance of promoting the integration of Earth observations (geostationary orbit and low Earth orbit satellites), Multi-GNSS and ICT to resolve national and regional socio-economic themes (e.g. agriculture/forestes, ocean) in Asia, and recognized the establishment of an ad-hoc team led by Australian and Japanese experts promoting the use of a geostationary meteorological satellite and making Himawari-8 data available not only for weather forecasting but also for various other applications, and drawing the attention of other countries to promoting such new applications.
Reports made by participating agencies on the good progress being made in the initiatives created through the WG, and their future direction to promote these initiatives were discussed.
Concept Paper