Climate R3:
Regional Readiness Review For Key Climate Missions [Completed]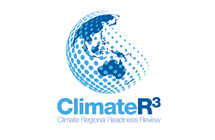 Objectives
Regional Readiness Review for Key Climate Missions (Climate R3) seeks to determine the ability of APRSAF countries and institutions to benefit from data and information that will be provided by selected climate-related satellite missions in the coming years. Other objectives are to raise awareness of the benefits of these missions and their expected applications for governments and societies, build capacity and relationships, coordinate development, create a stronger regional identity, and promote role sharing in the area of climate information.
Role of Climate R3
Assessing regional benefits of climate-related satellite missions, raising awareness of these benefits, emphasizing applications of space-derived information, identifying future measures to enhance regional capacity and leverage global investments, and developing appropriate related recommendations
Demonstrating how APRSAF may serve as a recognized space data coordination forum to support common regional activities and ensuring that Asia-Pacific issues are well represented in considerations of space-related global initiatives, such as Group on Earth Observations (GEO), and that the benefits for the region from these initiatives are optimized
Activities
Climate R3 was proposed at APRSAF-17, Melbourne, in 2010.
A pilot workshop for Climate R3 was held in Sydney in 2011 (1st Climate R3 workshop).
At APRSAF-18, Singapore (2011), Climate R3 was endorsed as an initiative of APRSAF.
The 2nd Climate R3 workshop was held in conjunction with the SAFE workshop in Perth in May 2012.

- A number of important topics were covered in the workshop, which focused on options to improve coordination of Earth observation data acquisition and provision in support of key activities in the Asia-Pacific region.

- Two key GEO activities were discussed—the Global Forest Observations Initiative (GFOI) and Global Agricultural Monitoring (GEOGLAM) initiatives. These were identified as important and high-profile global climate-related activities, for which APRSAF may be able to play a role in Asian data coordination.

The 3rd Climate R3 workshop in conjunction with a SAFE workshop was held in Nagoya in June 2013.
In January 2014, the Continuity of Earth Observation Data for Asia-Pacific (CEOD-AP) survey was conducted to identify key Earth observation data requirements and priorities at the regional and national levels.
At APRSAF-21, Tokyo (2014), participants agreed to archive Climate R3 with the various accomplishments of the three years since its launch. The SAWG has undertaken action toward the potential launch of a new APRSAF initiative that will best serve the Asia-Pacific region by fully utilizing the findings of Climate R3.