Space Frontier

Working Group
Objectives
The Space Frontier Working Group (SFWG) aims to explore new space frontiers, taking into account the trends of international space community engaged in space exploration activities. This working group discusses the utilization of the Japanese Experiment Module "Kibo" of the International Space Station (ISS), not only for scientific experiment but also for technology demonstration for future space exploration missions, and also engages in topics related to space exploration beyond the ISS. By using Kibo as the stepping stone for future space exploration, this working group aims to contribute to expand the space activities in the Asia-Pacific region to the moon and beyond.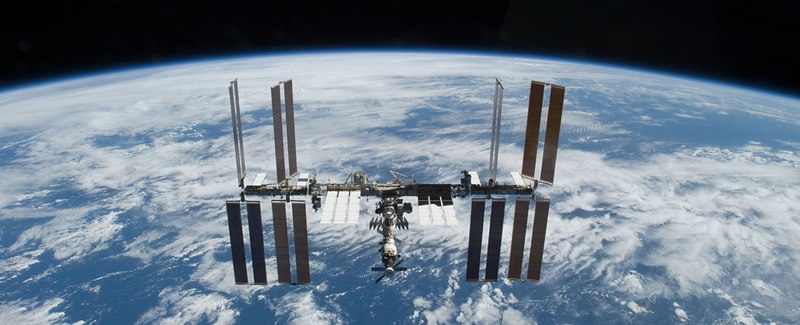 International Space Station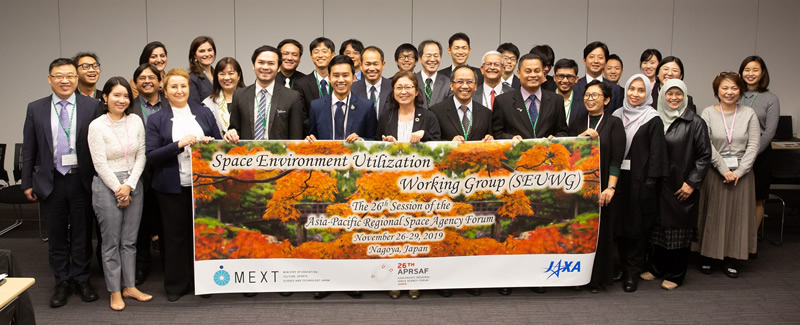 Space Frontier Working Group (APRSAF-26, Nagoya, Japan)
Activities
Space environment utilization in the region

Microgravity science experiments and other activities using the Kibo's Pressurized Module
Since experiments in microgravity environment is a specialized field of research, proposals for Kibo utilization from Asian countries were previously limited in number. However, significant progress has recently been observed.
Malaysia and Thailand have each conducted space experiments in the Kibo module. Furthermore, an Emirati astronaut has performed a science education mission in Kibo under collaboration between United Arab Emirates and Japan. Other countries are carrying out feasibility studies of space experiments onboard Kibo.
J-SSOD / Opportunities to deploy microsatellites from Kibo
Kibo has a unique system for deploying microsatellites into space called J-SSOD (JEM Small Satellite Orbital Deployer). Many Asian satellites (from Bangladesh, Bhutan, Israel, Malaysia, Mongolia, Myanmar, Nepal, the Philippines, Singapore, Sri Lanka, Turkey, and Vietnam) have been deployed from Kibo, and the J-SSOD attracts global attention as a new and low cost means of deploying satellites. JAXA selected two private companies as providers of microsatellite deployment services from Kibo to promote commercial activities using the Kibo module.
Experimental equipment on Kibo's Exposed Facility
The Exposed Facility has unique functions to realize frequent, easy, and diverse space experiments. For example, the IVA-replaceable Small Exposed Experiment Platform (i-SEEP) provides the resources, such as power and communications, for multiple pieces of equipment to be installed, making it easier to perform technical demonstration, earth observation, and space observation.
Malaysia and Turkey have conducted material exposure experiments on Kibo's Exposed Facility. The experiment service provider selected by JAXA is actively promoting the utilization of i-SEEP in the Asia-Pacific region.
ISS as a technical demonstration platform toward the Moon and Mars exploration
NASA and the international partners including JAXA are taking steps to begin the next era of exploration to the Moon and Mars, and the ISS/Kibo will be utilized as a technical demonstration platform for these future missions.

Asian Beneficial Collaboration through "Kibo" Utilization (Kibo-ABC) is an initiative established by APRSAF to promote the utilization of Kibo in the Asia-Pacific region and to share its value. Kibo-ABC aims to accumulate experience and improve capabilities in planning and executing various multinational programs related to the utilization of Kibo; to spread awareness and disseminate information to researchers, engineers, and young people who aim to conduct space experiments; and to create bilateral cooperative projects with Japan.
Existing programs include: Kibo Robot Programming Challenge, Asian Try Zero-G, and Asian Herb in Space.

Promotion of space environment utilization in the region

The Space Environment and Kibo Utilization Workshop (SEKUW) is an international workshop whose purpose is to discover potential space experiments to be conducted in Kibo. Based on the success of the first workshop held by LAPAN in 2015 in Indonesia, the second workshop was held by ANGKASA in 2016 in Malaysia and the third workshop by GISTDA/NSTDA in 2017 in Thailand. UAESA and JAXA held the Kibo utilization symposium online in 2020.