Interview with Mr. Jonathan Hung
Leader of Singaporean private association eagerly tackling the promotion of space activities in Singapore.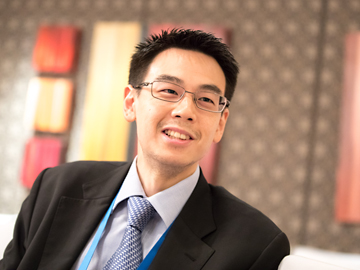 APRSAF Secretariat
SSTA has a very wide variety of activities, and you are supporting small satellite programs and industrial programs and also you engage in outreach activities. How did you come to found this unique organization?
Mr. Hung
At the point of time when I founded SSTA, I think Singapore did not really have an organization that was dedicated to supporting and building up the space industry or space ecosystem in Singapore. It was really just a matter of timing. I was looking at some of these satellite space projects, and since there was no specific organization, I realized that there was a lot of potential in space, very similar to how countries such as Japan as well as JAXA are able to leverage this space ecosystem and grow new activities, new useful and impactful activities in space. That is why we founded SSTA, to look at this from an industry and economic point of view.
Today, SSTA has grown. Initially, we did satellite-specific projects, remote-sensing activities, concentrating on how to build up mind share and community. But over the past 10 to 11 years we have grown quite deep subject matter expertise in some areas of satellite engineering, provide local and regional offerings in space education activities, and support various G2G relationships that we have developed.
Because of that, our holistic expertise in SSTA have grown to encompass all of these areas. We help industry, government, and academia to expand their activities in space.
SSTA: Connecting all involved parties
APRSAF Secretariat
In that sense, I guess you could say that SSTA is a kind of bridge between industries, government, and other players?
Mr. Hung
Certainly. That is one of our functions. We help support industry growth. And if industry needs support from the government or if it needs information from academia, if it wants to do R&D for example, we help to connect the parties. That is one of our core missions, to help all parties meaningfully connect. But of course, now that we have gone further and we have gone deeper, we can not only facilitate, but also programme manage the projects, similar to what we are doing for the Kibo program with the National University of Singapore.
APRSAF Secretariat
Speaking of Kibo utilization, I think Singapore is a relative newcomer to the Space Environment Utilization Working Group (SEUWG). But now you are playing a very active role. So can you tell us why Singapore is so keen to participate in this field?
Mr. Hung
We had a few years of satellite development. But as you know, satellites today are getting smaller, so we are looking at small, cost-effective, smart satellites to launch and also to try out and test new systems, new hardware, sub-systems for our universities, mainly for research, and for industry. All of these projects are taking place with a lot of universities and companies. But one of the issues we face is that Singapore is also somewhat newer to space, so we do need to build up some level of heritage. We have discovered, and we are very happy to have formed, this partnership with JAXA on Japan's Kibo module on the International Space Station because Kibo provides us with good access to space that enables us to do a lot of testing and build up this space heritage.
Our universities value that type of access. They already do a lot of ground-based work. Kibo is a great partner to have and we are very appreciative to JAXA because that opportunity helps us validate a lot of things that we are currently doing. And because it is a new step for us, we are hoping that projects such as our university program with the National University of Singapore will demonstrate that this partnership is a win-win one for both countries. This is because, again, our engineers and our researchers get the opportunity to work closely with JAXA engineers and researchers. So both parties can start to look at more joint projects in the future through this Kibo umbrella activity.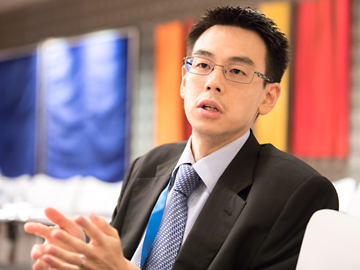 APRSAF Secretariat
So you have small satellite programs such as SpooQy 1 and Galassia and you also have Kibo's Exposed Experiment Handrail Attachment Mechanism or ExHAM program with other institutions and organisations. Could you describe briefly SSTA's role in these programs?
Mr. Hung
All of them are Kibo-related projects. Again these are projects through which we demonstrate that we have gone deeper in our skill set. SSTA today provides program management to all three initiatives. All of them require some degree of engineering support. We help to manage the program lifecycle, whether it is the JEM Small Satellite Orbital Deployer, or J-SSOD, launch or whether it is an ExHAM test. From the day that the contract is signed, all the way through to making sure that the safety reviews, the engineering reviews, the test requirements, and all the various elements of the project are successfully done and delivered, all of that is guided by SSTA staff today.
We have a dedicated SSTA team that looks at project management and it supports both the end users as well as the JAXA team. We help to form a project management team that supports in-country requirements. And that is what we do for all three projects. Regardless the duration of the project, SSTA will be there throughout that time together with the Singapore team as well as the JAXA program team to facilitate successful delivery of the whole program.
APRSAF Secretariat
So, participating in APRSAF is part of your relations with other countries. What is the merit of participating in these APRSAF activities to you?
Mr. Hung
APRSAF has always been an excellent platform, at least from our perspective. APRSAF attracts everybody in Asia. In fact, the main reason we attend APRSAF is because of the open cross-sharing among the Asian countries; they are the ones that I think we always want to support and be a good space partner to. APRSAF promotes the free sharing of ideas, a foundational spirit of APRSAF that we personally subscribe to and we believe in.
I can gladly share that it was because of APRSAF that we got involved with Kibo and subsequently the other working groups. Today, Singapore and SSTA have developed very good relationships with all the Asian countries because of constant contact and APRSAF is a good checkpoint for us on an annual basis.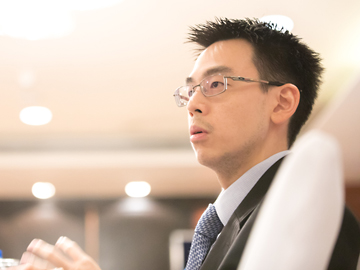 APRSAF Secretariat
With respect to countries, how can the experience of SSTA be shared, and contribute to other Asian countries?
Mr. Hung
SSTA is very industry focused and embarks on quick capacity-building for our industry. From a technology and industry perspective, we are always ready to help facilitate companies that want to expand in the region. Singapore has always been a good stepping stone and a launch platform for overseas companies, not just from the U.S. or from Europe, but all over the world. Even regional conglomerates and MNCs, as well as technology companies tend to have a good presence in Singapore.
Singapore is never the end state or final destination for these countries. All of them always look further afield. And from a business and commercial perspective, it is always the Asia-Pacific region. When it comes to local or foreign space and satellite companies, SSTA always encourages them to look at the region. We do quite a lot today. One of our main roles is to facilitate these companies going into the region. So, if they want to explore projects in, say, Indonesia,Vietnam, Malaysia orThailand, and even if they want to do things with Japan and JAXA, we always encourage them to do so. And if we need to, we will reach out to our counterpart agencies in these countries, call them, reach out and say, "Look, these are the companies that are interested in your country, your programmes; how can we help?" From the industry point of view, we are already doing that.
From the education part as well as research, we are also actively involved. SSTA runs a suite of education programs. We are now offering and providing partnerships, conducting joint programs with other countries so that both countries can experience these education programs together. If we need to develop together with the countries in collaboration, we are happy to do so as well, so that it benefits both Singaporean students and foreign students through a more customized exercise.
The third part is that it helps to close the gap and build a stronger cultural bond between both countries. It goes all the way to deepening the relationship between the countries as well.
We are happy to be a platform. And perhaps in a few years, we can be a hub for some of the mind share and learnings; ulimately establishing a top leadership center for space activity. We would also like to facilitate technology developments for Southeast Asia; again, we are happy to leverage some of the advanced infrastructure that we have in place already. Hopefully, that will enable Singapore to be a good space hub in Southeast Asia.
Singapore is hosting the next APRSAF meeting.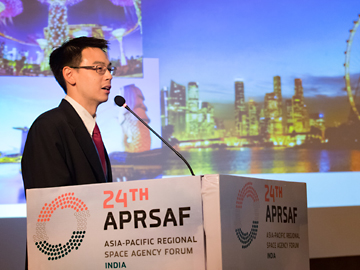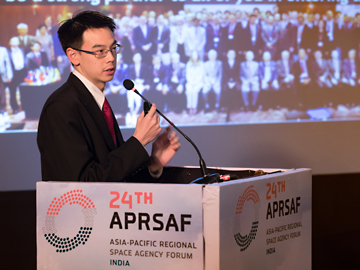 APRSAF Secretariat
You are going to host the next APRSAF meeting. The last meeting in Singapore was in 2011. I suppose that the situation in Singapore for space activities is different from then.
Mr. Hung
Oh yes, very different! In 2011, there were fewer institutions that were conducting satellite research and development, less space activity, fewer government offices that were looking at space. Fast forward to today, there are more government agencies that have an interest in space, its utilization, and applications in satellite technology. The programs at our main universities, National University of Singapore, and the Nanyang Technological University are more mature. We have a commercial company, ST Electronics, that has already gone full swing into commercial development. We have small and midsize enterprises that are looking at space and satellite technology, and providing critical ecosystem support.
Finally, we have a lot of startups and young and old innovators that are going into space; in fact, SSTA actually now incubates startups in space; local or locally based foreign startups in satellite technology. We are facilitating these new areas and hope to have them as new additions to APRSAF that will make a difference.
Since 2011 until now, Singapore has also successfully sent up a few satellites, so that also helps to demonstrate some new areas of interest and technology, and all that would be fresh and new perspectives that can be shared at next year's APRSAF.
APRSAF Secretariat
What do you expect holding the next APRSAF meeting?
Mr. Hung
I expect that the conversations will be good meaningful and exciting There will be even more cross-sharing. We hope to have more innovation topics that will be shared, so every country can share its experiences in newspace, in new innovative satellite technology. That is what I hope to see or that we can bring to the table for next year's APRSAF, and maybe even have a stronger youth component as well. I think that is also an area in which we hope to do more at APRSAF.