Space Policy in Asia-Pacific
APRSAF-ESPI jointly held "Inter-Regional Space Policy Dialogue"
In the evening of 22 June 2018, the APRSAF Secretariat and European Space Policy Institute (ESPI) co-organized an event titled, "Inter-Regional Space Policy Dialogue between Asia-Pacific and Europe - Towards Space Policy for Socioeconomic Development" at ESPI in Vienna, Austria during the United Nations COPUOS session this year. About Sixty space policy experts from twenty-five countries participated in this first-ever event.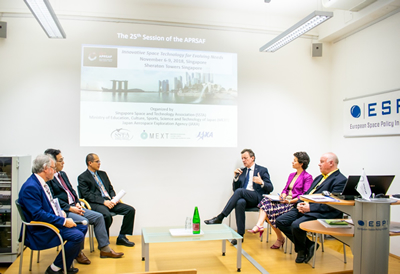 While many countries in the Asia-pacific region start developing its own space policy and/or launching full-scale initiatives to conduct nationtxt-level space activities, the APRSAF has begun to organize opportunities to exchange views at the policy level, as well as collaboration activities led by the working level of implementing agencies, and organized the "Space Policy Session" at the APRSAF-24 last year for the first time. The Joint Statement of the APRSAF-24 noted the importance of space policy practitioners to regularly gather and exchange views, and this event at ESPI was an opportunity to follow up on the Statement.
The event was arranged to provide a number of representatives from both regions with the opportunity to exchange views on highly relevant topics regarding space policy for socio-economic development, and to learn more about the respective approaches taken towards the development and implementation of space policies in other countries.
During the first session, representatives of the co-organizers, Mr. Akira Kosaka, APRSAF Executive Secretary, and Mr. Jean-Jacques Tortora, Director of ESPI, each presented an overview of the space policy communities in their respective regions.
During the second session, space policy experts from Asia-Pacific and Europe regions respectively presented the space policies and activities of his/her nation, and discussed actions to be taken in order to make use of space technologies for the national issues, from a space policy standpoint.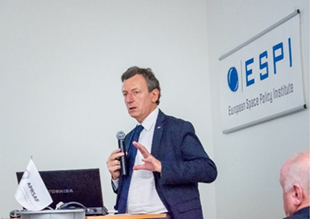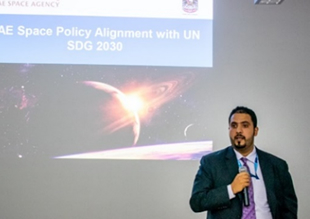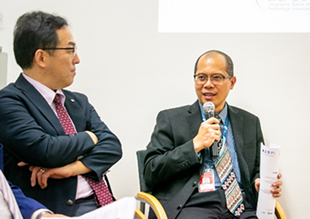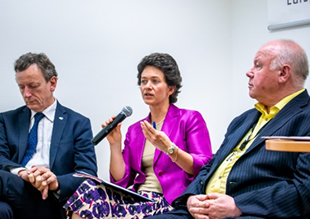 As the first opportunity for dialogue between Asia-Pacific and European space policy communities, the event was successful.
We highly expect that the opportunities organized for the government officials responsible for space policy to come together periodically to exchange views will lead to a deeper, mutual understanding of the policy matters that are important to each country, and create a platform for policy-level collaborations that can address common social issues.
APRSAF will continue to promote space policy discussion within the Asia-Pacific region as well as space policy dialogues with other regions.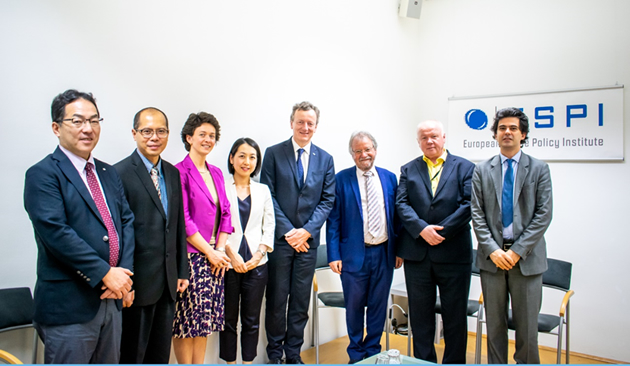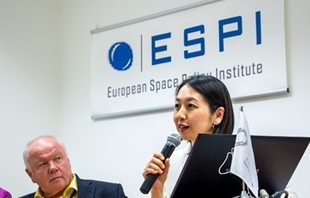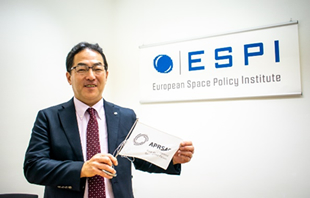 *All photos on this page are contributed by Mr. Kang San KIM (Antonio Fowl Stark).
Panelists, Representatives of Co-organizers and Moderator are listed below:
Role
Name
Position
Organization
Country
Panelist
Mr. Petr Bares
President /
Managing Director
Czech Space Alliance /
Iguassu Software Systems
Czech Republic
Panelist
Mr. Chris Dewanto,
Director of Cooperation, Public Relation and General Affairs Bureau
National Institute of Aeronautics and Space (LAPAN)
Indonesia
Panelist
Mr. Roberto Battiston
President
Italian Space Agency
Italy
Panelist
Dr. Natalia Archinard
Acting Head of the Education, Science, Transport and Space Section
Federal Department of Foreign Affairs
Switzerland
Panelist
Mr. Naser txt-Rashedi
Director of Space Policy & Regulations
UAE Space Agency
UAE
Panelist
Dr. Dao Ngoc Chien*
Deputy Director-General
Department of High Technology, Ministry of Science and Technology
Vietnam
Co-organizer
Representative,
Keynote speaker
Mr. Akira Kosaka
APRSAF Executive Secretary
APRSAF Secretariat
Japan
Co-organizer
Representative,
Moderator of the Panel,
Keynote speaker
Mr. Jean-Jacques Tortora
Director
European Space Policy Institute (ESPI)
Austria
Co-organizer, Master of Ceremony
Dr. Ikuko Kuriyama
Space Policy Initiatives Organizer
APRSAF Secretariat (JAXA)
Japan
*Because of absence, contributed by presentation material
Reference