Joint Development of Innovative Small and Cube Satellites
The second meeting on joint development of innovative small and cube satellites was held with video-conference system
On August 23, 2018, the second meeting on joint development of innovative small and cube satellites organized by the APRSAF Secretariat was successfully held with video-conference system.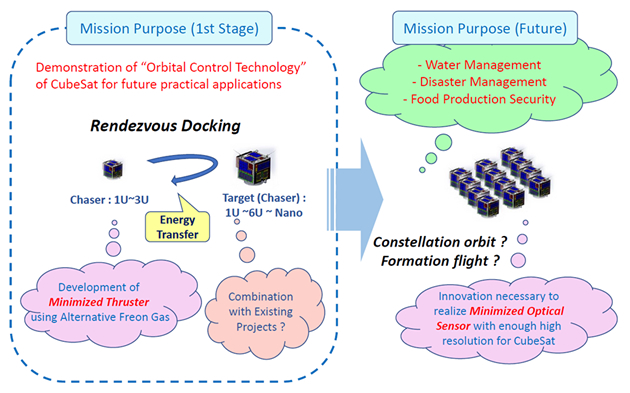 JAXA's Idea of Mission Concept
Based on the action items from the first meeting held in June in Bangkok on the Joint Development of Innovative Small-Cube Satellites, ISRO, JAXA, KARI and VNSC respectively introduced their own ideas for a mission concept, and participants discussed the potential mission concepts which could be shared among them for this initiative (Their presentation materials are attached.).
The key points identified and shared among participants are summarized as follows:
Summary
1)

Mission Concept: To develop at least two CubeSats (1 U to 6 U) for technology demonstration of rendezvous docking and inter-satellite communication

2)

All participants recognized that solving social issues is one of the primary objectives of joint development exercise and the possibility of putting additional 'meaningful payloads' can be discussed in the 3rd meeting on 23 Oct 2018.

3)

JAXA to take the leading role and to conduct quick and rough feasibility study on Mission Concept with cooperation from KARI and VNSC
All participants agreed to have the 3rd meeting on October 23rd, UTC 5:00-7:00, to review the results of feasibility studies and discuss on the input for the 4th meeting to be held in the morning on November 6th during APRSAF-25 in Singapore.
If you are interested in joining the 3rd meeting, please contact the APRSAF Secretariat.
Participants of the 2nd meeting
Mr. G. Ravi Chandra Babu, Associate Project Director, U.R. Rao Satellite Centre, ISRO
Mr. Wahyudi Hasbi, Head of Dissemination Division, Satellite Technology Center, LAPAN
Mr. Atsushi Noda, Deputy Director of System Technology Unit, Research and Development Directorate, JAXA
Mr. Junichi Moriuma, Manager, Management and Integration Department, Research and Development Directorate, JAXA
Mr. Hajime Shinomiya, Associate Administrator, Management and Integration Department, Research and Development Directorate, JAXA
Mr. Amanat Umbetbayev, Head of International relation's division of Aerospace Committee
Mr. Wonsub Choi, Senior Researcher of Future Convergence Research Devision, KARI
Ms. Paula Jean Casino, Research Associate, University of Philippines, DOST
Mr. Vu Viet Phuong, Deputy Director General, VNSC, Vietnam
The APRSAF Secretariat: Mr. Akira Kosaka, Dr. Hiroshi Shirakawa, Ms. Kumiko Tanabe, Mr. Atsushi Ono, Ms. Yuki Tanaka, Ms. Yoko Kagiwada, Ms. Mari Konishi
END
Attachment 1: Agenda of 2nd meeting on August 23
Attachment 2: ISRO's Idea of Mission Concept
Attachment 3: JAXA's Idea of Mission Concept
Attachment 4: VNSC's Idea of Mission Concept
Attachment 5: KARI's Idea of Mission Concept
Attachment 6: Kazakhstan Aerospace Committee's Idea of Mission Concept *shared on 30 of August