APRSAF-21

The 21st Session of the Asia-Pacific Regional Space Agency Forum (APRSAF-21), Tokyo, Japan, December 2-5, 2014
New Structure of APRSAF WG Framework
After its 20 years of activities of APRSAF, the participants of APRSAF-20, held from December 3 to 6, 2013 in Hanoi, Vietnam, endorsed further discussion by the APRSAF Executive Committee (ExCom) to renovate the framework of working groups toward socio-economic outcome oriented structure as stated in the Recommendations #41.
Responding to this Recommendation, the ExCom would like to suggest the new framework of working groups as follows to contribute to solving common issues in the Asia-Pacific region through APRSAF: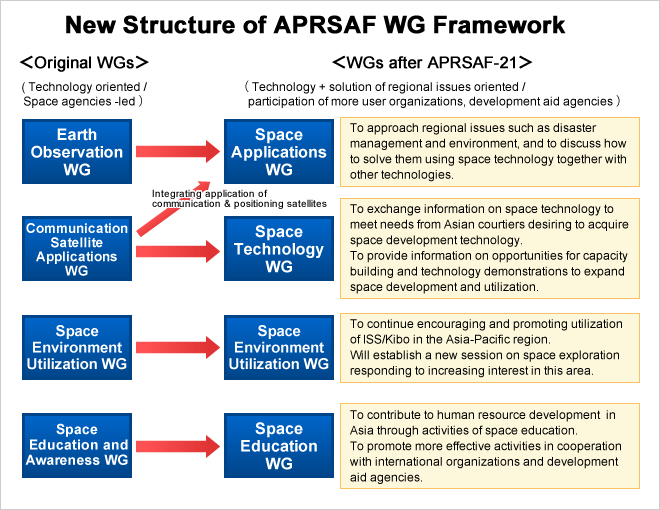 Renovation of the framework of WGs
Space technology oriented "Earth Observation WG" will shift to "Space Applications WG," to solve regional socio-economic issues through promoting cooperation with other technology fields.
"Communication Satellite Applications WG" will shift to "Space Technology WG," aiming to meet needs from countries desiring to acquire space development technology, and to exchange information on technology and capacity building.
"Space Environment Utilization WG" will expand its activities of ISS/Kibo utilization and establish a new session on space exploration responding to increasing interest of Asian countries toward space exploration, etc.
"Space Education and Awareness WG" will place space education as the center of its activities, and change its name to "Space Education WG."
Each WG will deepen inter-WG cooperation.
This new structure will be reflected in the next session of APRSAF, to be held in December this year.