Interview with Mr. Maszlan Ismail, director of ANGKASA
The APRSAF secretariat conducted an interview with Mr. Maszlan Ismail, director of the National Space Centre, National Space Agency of Malaysia (ANGKASA) on the occasion of the IAC2009 held from 12 to 16 October 2009, in Daejeon, Republic of Korea.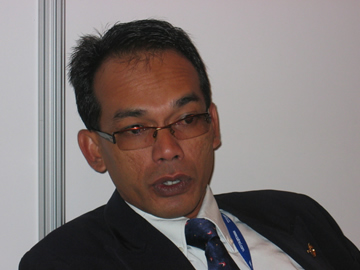 Latest space-related activities
We launched an earth observation satellite, RazakSAT on 14 July, 2009, which is still in the commissioning phase. The full operational launch will be announced soon.
We have started the programme of the construction of the Assembly, Integration and Test (AIT) Centre. The centre is intended for satellite assembly and integration as well as providing utilities for environmental testing. It just began in October 2009 and we hope to complete within 18 months or by April 2011.
We have also just started our new satellite programme, a small communication satellite.
The budget for the new earth observation programme, RazakSAT-II, is now being requested.
Education programme
Throughout the year, we have many education programmes for elementary schools, junior high schools, high schools and universities. Our education programmes are very active. One good example is the student satellite competition programme we are organizing, CanSat (a canned juice-sized micro satellite) on an annual basis, while we also send competitors overseas.
We are now also trying to convince our government to start the second astronaut programme following that of the first astronaut (Dr. Sheikh Muszaphar Shukor), who was sent to the ISS in Oct. 2007.
STAR program
We have had several meetings regarding the STAR program since last year. We discussed the program in depth at the APRSAF-15 in Hanoi, Vietnam, 2008. JAXA has played a significant role in establishing it. In my opinion, the STAR program is excellent, but could face some difficulties i.e. each country sending one or two engineers, who will then cooperate and work on the program. I'm afraid that organizing it and fulfilling the requirement by those methods is difficult. However, we are now arranging to dispatch engineers and I hope they will bring results.