The Interview of an APRSAF Member
- Satish Dhawan Space Centre (SDSC) -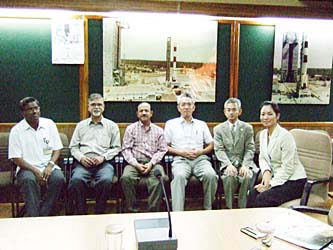 APRSAF Secretariat visited Satish Dhawan Space Centre (SDSC) to make an interview with S. Shankar, M.Tech., (Aero), Deputy Director of Management System Area (MSA), Satish Dhawan Space Centre, SHAR.
Establishment and Location
Satish Dhawan Space Centre SHAR, located at Sriharikota, a spindle shaped island on the East Coast of Andhra Pradesh, about 80 km north of Chennai, is the spaceport of India. This island was chosen in 1969 for setting up of a satellite launching station. Features like good launch azimuth corridor for various missions, advantage of earth's rotation for eastward launchings, nearness to the equator, and large uninhabited area for safety zone - all make Sriharikota Range, popularly known as 'SHAR' an ideal spaceport. Off Sullurupeta - a small town in Nellore district, Andhra Pradesh on the national highway connecting Chennai and Kolkata - a 20 minutes drive towards the east on the road laid across the Pulicat Lake takes one to Sriharikota. SHAR was named as 'Satish Dhawan Space Centre SHAR' (SDSC), on eptember 5, 2002, in memory of Prof. Satish Dhawan, former Chairman of the Indian Space Research Organisation.
Facilities and Activities
The facilities at SDSC include solid propellant production plant, rocket motor static test facility, launch complexes for a variety of rockets, telemetry, telecommand, tracking, data acquisition and processing facilities, and other support services.
The first flight-test of 'Rohini-125', a small sounding rocket took place from here on October 9, 1971. Since then technical, logistic and administrative infrastructure have been enhanced.
The establishment of state-of-the-art Second Launch Pad (SLP) is an important addition to this centre. SLP will cater to the requirement of more frequent launchings as well as the requirement of both present launch vehicles as well as those planned in the coming decade.
The propellant production plant produces composite solid propellant for rocket motors of ISRO using ammonium perchlorate (oxidiser), fine aluminium powder (fuel) and hydroxyl terminated polybutadiene (binder). The solid motors processed here include those for the first stage booster motor of the Polar Satellite Launch Vehicle (PSLV) - a five segmented motor of 2.8 m diameter and 22 m length, weighing 160 tons with a thrust level of 450 tons.
Rocket motors and their subsystems have to be rigorously tested and evaluated on ground before they are declared flight worthy. The facilities at SDSC SHAR are used for testing solid rocket motors, both at ambient conditions and simulated high altitude conditions. Besides these, there are facilities for conducting Vibration, Shock, Constant Acceleration and Thermal/humidity tests.
SDSC SHAR has the necessary infrastructure for launching satellite into low earth orbit, polar orbit and geostationary transfer orbit. The launch complexes provide complete support for vehicle assembly, fuelling,checkout and launch operations. Apart from these, the Centre has facilities for launching sounding rockets meant for studying the earth's atmosphere.
The mobile service tower, launch pad, preparation facilities for different launch stages & spacecraft, storage, transfer and servicing facilities for liquid propellants, etc., are the important installation in the PSLV/GSLV launch complex.
Launch Achievements and Future Plan
For supporting the GSLV Mk III programme additional facilities are being set up at SDSC. A new plant is being set up to process heavier class boosters with 200 tonnes of Solid propellant. The static test complex is being augmented for qualifying the S-200 booster. Other new facilities include a Solid Stage Assembly Building, Satellite Preparation and Filling Facility and Hardware Storage buildings. The existing liquid propellant and cryo propellant storage and filling systems, Propellant Servicing Facilities will also be augmented. The range instrumentation system will be strengthened further.
So far, four SLV-3 launch vehicles, four Augmented Satellite Launch Vehicles (ASLV), nine Polar Satellite Launch Vehicles (PSLV) and three Geosynchronous Satellite launch Vehicles (GSLV) have been launched from this Centre.