APRSAF-17

The 17th Session of the Asia-Pacific Regional Space Agency Forum (APRSAF-17) Melbourne, Australia, 23-26 November 2010
Photos
Day 0: SAFE Workshop
The SAFE workshop was held on November 22.
Day 1 & Day 2: Working Group sessions
Four Working Group Sessions were held on November 23 and 24. There were two joint sessions; SEU & SEA on 23rd and EO & SEU on 24th. Japanese Astronaut, Naoko Yamazaki joined in both joint sessions, and she delivered an activity report at the SEU & SEA joint session.
EO (Earth Observation) Working Group
CSA (Communication Satellite Applications) Working Group
SEU (Space Environment Utilization) Working Group
SEA (Space Education and Awareness) Working Group
Day 3 & Day 4: Plenary Session
The Plenary session was held on November 25 and 26 in the Crown Conference Centre.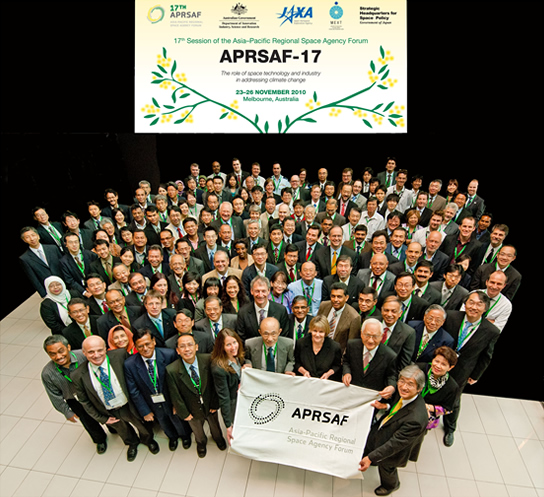 General Co-chairs:
Dr. Tetsuhiko Ikegami, MEXT, Japan (Left)
Dr. Michael Green, DIISR, Australia (Right)

Key note address by Ms. Patricia Kelly, Deputy Secretary, DIISR, Australia


Panel Discussion: "The role of space technology in addressing climate change"
Moderated by Dr. Gary Richards from Department of Climate Change & Energy Efficiency, Australia, five panellists delivered presentations on their activities related to climate change and Q & A session followed. The panellists were as follows:
Dr. John Zillman (GCOS, Former head of WMO and BOM, Australia)
Mr. Arjun Thapan (Infrastructure and Water, Asian Development Bank)
Dr. Olivia la O'Catillo (UN Secretary General's Advisory board on Water and Sanitation (UNSGAB) / Sustainable Development Solutions for Asia and Pacific (SDSAP))
Ms. Ratih Dewanti Dimyati (National Institute of Aeronautics and Space, LAPAN, Indonesia)
Dr. Yasushi Horikawa (JAXA, and Designated Chairman, UN COPUOS (2012-2013))
Recommendations of APRSAF-17 were adopted on Day 4, November 26.
Please visit the following site to see the recommendations:
http://www.aprsaf.org/annual_meetings/aprsaf17/recommendation.php
Australian Cultural Experiences
The Australian Indigenous Welcoming Dance and Australian unique animals were introduced to the delegates.
Industrial Exhibition
There was an industrial exhibition during the sessions. Several organizations including private sectors displayed their products and/or efforts.
Technical tours
In the afternoon of the Day 4, November 26, two technical tours were conducted; one was for the Bureau of Meteorology (BOM) and the other for the Victorian Space Science Education Centre (VSSEC).
Bureau of Meteorology (BOM)

Victorian Space Science Education Centre (VSSEC)

Water Rocket Event
On November 21 and 22, the Water Rocket Event was held by SEA working group at the Victorian Space Science Education Centre (VSSEC) and Cross Keys Reserve.
Poster Contest
Poster contest was held at the Crown Conference Centre from November 23 to 26.