APRSAF-24

The 24th Session of the Asia-Pacific Regional Space Agency Forum (APRSAF-24), Bengaluru, India, November 14-17, 2017
Day 1 & Day 2 : Working Group Sessions
Two-day working group sessions of APRSAF-24 began on Tuesday, November 14 at Sheraton Grand Bangalore Hotel at Brigade Gateway, India. More than 400 participants so far have joined the sessions.
Space Applications Working Group
Space Technology Working Group
Space Environment Utilization Working Group
Space Education Working Group
Joint Session – WG and SEUWG
Day 3: Plenary Session
On November 16, Plenary Session was opened with speeches by General Co-chairs.

Opening Remarks
Mr. A. S. Kiran Kumar
Secretary, Department of Space (DOS), India / Chairman, Indian Space Research Organisation (ISRO)

Opening Remarks
Ms. Mami Oyama
Deputy Director General, Research and Development Bureau, Ministry of Education, Culture, Sports, Science and Technology of Japan (MEXT), JAPAN
Following the speeches, Country Reports, which focused on the space policy, were presented.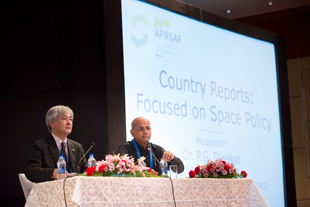 Country Reports
Moderator:
Mr. Masazumi Miyake
Director, International Relations and Research Department, JAXA, JAPAN
Dr. P.G. Diwakar
Scientific Secretary
ISRO, INDIA
In addition to activity reports by countries, there was a session "Space Cooperation in Asia-Pacific Region".
Space Cooperation in Asia-Pacific Region
Moderated by Ms. Simonetta Di Pippo, Director of UN Office of Outer Space Affairs (UNOOSA)
Speakers included:
-Mr. Chris Lee, Head of International Partnerships, UKSA, UK
-Ms. Erdenee Byambasuren, Senior Official, Department of Strategic Planning and Program Management, APSCO
-Dr. Kwoh Leong Keong, Vice Chair, ASEAN-SCOSA
-Dr. Shashank Khurana, Event Manager of AP-SGW2017, Space Generation Advisory Council (SGAC)
-Dr. Werner Balogh, Chief, Space Applications Section, IDD, UNESCAP
-Mr. Piyush Srivastava, Indian Foreign Service (IFS), Joint Secretary (BIMSTECH & SAARC), Ministry of External Affairs,
Government of India
-Mr. Jean-Yves Le Gall, President, International Astronautical Federation (IAF) *The presentation was delivered on Nov. 17.
Day 4: Main Plenary Session
On November 17, Main Plenary Session was held.
Heads of Agency Session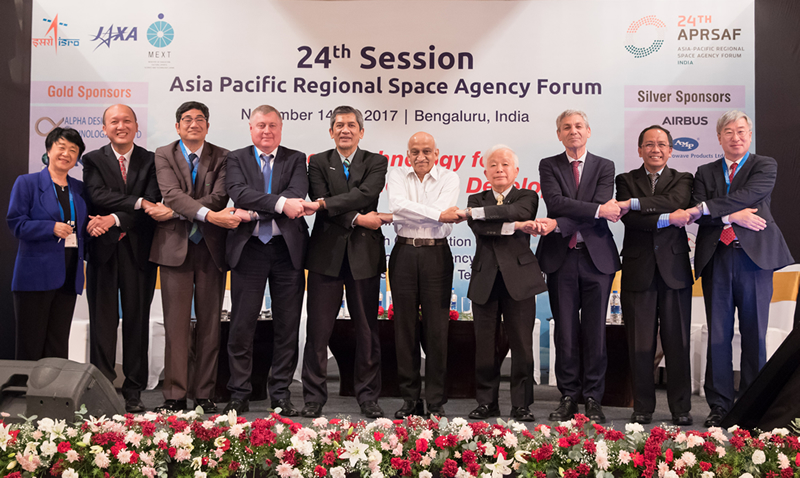 Moderated by Dr. Chiaki Mukai, Technical Counselor, JAXA, JAPAN, Chair of the Scientific and Technical Subcommittee (STSC) of the COPUOS
Panelists included (left –to- right):
-Mr. Vu Viet Phuong, Vice Director General of VNSC, VIETNAM
-Dr. Anond Snidvongs, Executive Director of GISTDA, THAILAND
-Mr. Sergey Saveliev, Deputy Director General of ROSCOSMOS, RUSSIA
-Dr. Noordin Ahmad, Director General ofANGKASA, MALAYSIA
-Mr. A.S. Kiran Kumar, Chairman of ISRO, INDIA
-Dr. Naoki Okumura, President of JAXA, JAPAN
-Mr. Avi Blasberger, Director General of ISA, ISRAEL
-Prof. Dr. Thomas Djamaluddin, Chairman of LAPAN, INDONESIA
-Dr. Chin Young Hwang, Executive Director of Future Strategy Head Office, KARI, KOREA
APRSAF Activities & Related Projects
On Monday, November 13, three sub-sessions were conducted as below:
SAFE Initiative Workshop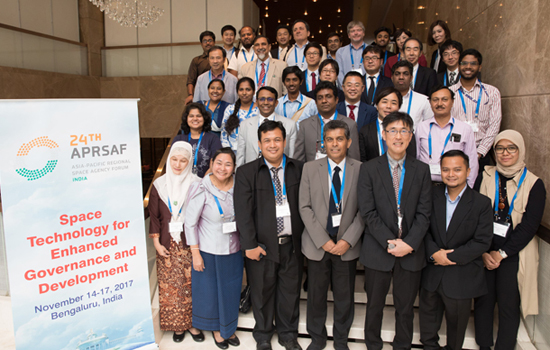 Kibo-ABC Initiative Workshop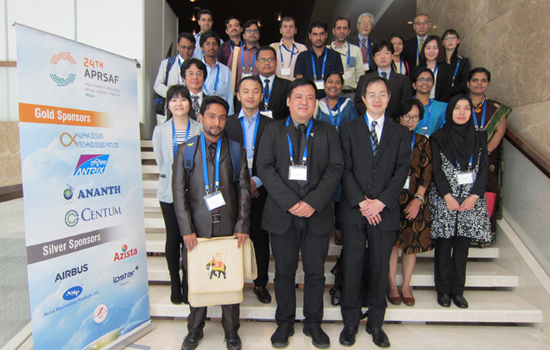 Space Policy Workshop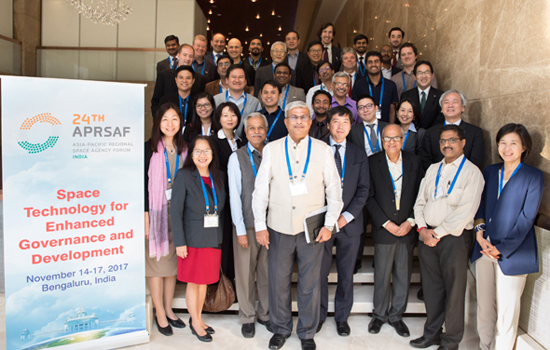 Water Rocket Event
On November 11 and 12, Water Rocket Event was held at Kendriya Vidyalaya, NAL Campus. Total 57 students from 12 countries participated in the event and enjoyed the launch competition with plastic bottle rockets made by themselves.