The 1st Joint Project Team Meeting (JPTM) for Sentinel Asia STEP-2
5-6 June 2008, Kobe, Japan
Asia-Pacific Regional Space Agency Forum (APRSAF) /
United Nations Educational, Scientific and Cultural Organization (UNESCO)
Space Education Forum 4 MARCH 2006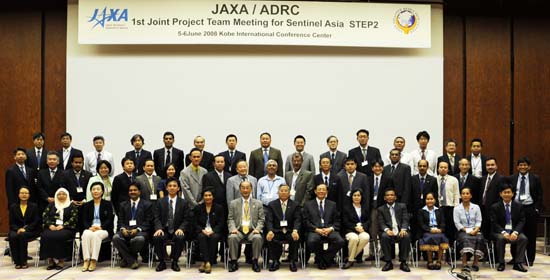 The first Joint Project Team Meeting for Sentinel Asia Step 2 (1st JPTM for SA2) was held from 5 to 6 June 2008 in Kobe, Japan. It was co-hosted by the Japan Aerospace Exploration Agency (JAXA), the Asian Disaster Reduction Center (ADRC) and 63 people representing 30 organizations from 18 countries and 7 international organizations.

The objectives of the 1st JPTM for SA2, which is based on the recommendations for STEP-2 adopted at the 14th APRSAF held in India, from 21 to 23 November 2007, are as below:
Construction the new framework to enforce Sentinel Asia STEP-2 for 2008-2012.
Making consensus of new system and operation concept for Sentinel Asia STEP-2.
Opening Speeches
Mr. Koji SUZUKI
Executive Director
Asian Disaster Reduction Center (ADRC)
Mr. Guoxiang WU
Chief of Space Technology
Applications Section
United Nations Economic and Social
Commission for Asia and the Pacific (UNESCAP)
Dr. Masanori HOMMA
Associate Executive Director
Japan Aerospace Exploration Agency (JAXA)
MEETING DETAILS
Hosted by
Japan Aerospace Exploration Agency (JAXA)
Co-organizers
Asian Disaster Reduction Center (ADRC)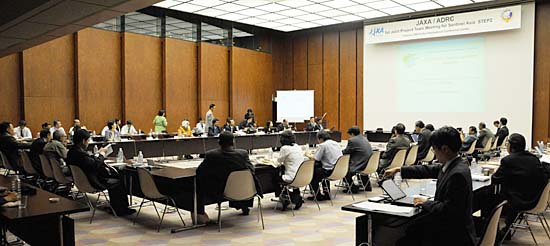 Point of Contact
JPTM Secretariat
c/o Remote Sensing Technology Center of Japan (RESTEC)
tel: +81-3-5561-4533 fax: +81-3-5574-8515

E-mail:



For more information please visit Sentinel Asia website:
http://dmss.tksc.jaxa.jp/sentinel/news/Announce_SA2JPTM1.html