APRSAF-8
The 8th Session of the Asia-Pacific Regional Space Agency Forum
Meeting Details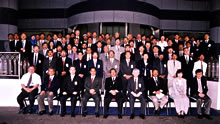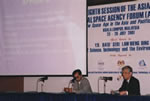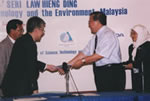 Background
Asia-Pacific Regional Space Agency Forum (APRSAF) is the conference to exchange the views and perspectives on space development in the region. Under the theme of "New Space Age in the Asia and Pacific Region", this eighth session is to discuss the subject such as promotion of cooperation with the regional space development organizations and the Japanese organizations that are utilizing the space technology. The forum has been held seventh time since 1993. First four sessions, the sixth and the seventh session were convened in Tokyo. The fifth session was convened in Ulanbaatar, Mongolia. At APRSAF-4, a delegate from Mongolia proposed to host a next meeting of APRSAF and consequently APRSAF-5 was held in Ulaanbaatar, Mongolia in June 1998.
The 1st Session : Tokyo, Japan / Sep. 1993
The 2nd Session : Tokyo, Japan / Oct.-Nov.1994
The 3rd Session : Tokyo, Japan / Mar.1995
The 4th Session : Tokyo, Japan / Mar.1997
The 5th Session : Ulanbaatar, Mongolia / Jun.1998/Co-Host Style
The 6th Session : Tsukuba, Japan / May 1999
The 7th Session : Tokyo, Japan / Jun.2000
Participating Countries and Organizations
Bangladesh, Canada, China, France, India, Indonesia, Japan, Korea, Laos, Malaysia, Mongolia, Myanmar, Nepal, Pakistan, Philippines, Russia, Sri Lanka, Thailand, Vietnam, USA

International Organizations -

AIT, ISU, ICIMOD, UN/ESCAP
NASDA's Roles:
As one of the organizing agencies, NASDA is in charge of not only planning and organizing the annual meeting of APRSAF, including secretariat functions, but also sending its staff to make a leading speech and other presentations at every Session of the APRSAF meeting.
Outline of the 8th Session
Joint Organizers
Ministry of Education, Culture, Sports, Science and Technology of Japan (MEXT)
National Space Development Agency of Japan (NASDA)
Institute of Space and Astronautical Science (ISAS)
Malaysian Centre for Remote Sensing (MACRES)
Ministry of Science, Technology and the Environment (MOSTE)
Date
July 23 ~ July 26, 2001
(Technical Tour on 26)
Place
Malaysian Centre for Remote Sensing (MACRES)
Kuala Lumpur, Malaysia
Co-Chairperson
Dr. Kyoichi Kuriki, Space Activities Commission (SAC)
Mr. Nik Nasruddin Mahmood, Director, MACRES
Program
First Day (July 23):
Registration, Opening Plenary Session, Welcome Address, Keynote Speech, Special Lecture
Session: Earth Observation, Communication Satellite
Applications Session
Working Group: Earth Observation, Communication Satellite
Applications, Space Education and Awareness
Second Day (July 24):
Session: Space Education and Awareness, Communication Satellite Applications, Earth Observation
Working Group: Earth Observation, Communication Satellite
Applications, Space Education and Awareness
Third Day (July 25):
Session: Space Environment Utilization, Sessions and Working Groups Summarization, Closing Session
Fourth Day (July 26):
Technical Tour: FRIM, MSC
Report