APRSAF-7
The 7th Session of the Asia-Pacific Regional Space Agency Forum
Meeting Details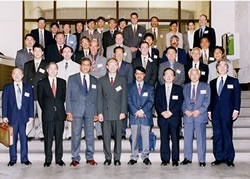 Background
Asia-Pacific Regional Space Agency Forum (APRSAF) is the conference to exchange the views and perspectives on space development in the region. Under the theme of "Easy Access to Space Benefit", this seventh session is to discuss the subject such as promotion of cooperation with the regional space development organizations and the Japanese organizations that are utilizing the space technology. The forum has been held six times since 1993. First four sessions and the sixth session were convened in Tokyo. The fifth session was convened in Ulanbaatar, Mongolia.
The 1st Session : Tokyo, Japan / Sep. 1993
The 2nd Session : Tokyo, Japan / Oct.-Nov.1994
The 3rd Session : Tokyo, Japan / Mar.1995
The 4th Session : Tokyo, Japan / Mar.1997
The 5th Session : Ulanbaatar, Mongolia / Jun.1998/Co-Host Style
The 6th Session : Tsukuba, Japan / May 1999
Participating Countries and Organizations
Bangladesh, Canada, China, India, Indonesia, Japan, Korea,
Malaysia, Mongolia, Nepal, New Zealand, Pakistan, Kiribati,
Russia, Singapore, Sri Lanka, Thai, Vietnam, United States,
UN Office for Outer Space Affairs (OOSA),
Economic and Social Commission for Asia and the Pacific (ESCAP),
International Space University
NASDA's Roles:
Being one of the host organizations, NASDA takes charge in operation of the forum as well as secretariat. Also NASDA takes part in a number of presentations and reports.
Outline of the 7th Session
Host Organization
Science and Technology Agency (STA)
National Space Development Agency of Japan (NASDA)
Institute of Space and Astronautical Science (ISAS)
Date
June 19 -June 22, 2000
(Technical Tour on 22)
Place
Institute of Industrial Science, University of Tokyo
Chairperson
Emeritus Prof. Shunji Murai, University of Tokyo
Program
First Day :
Registration, Opening Plenary Session, Welcome Address, Keynote Address
Session: Space Education and Public Relations, Space Environment Utilization
Second Day:
Session: Earth Observation
Third Day:
Session: Satellite Utilization Projects in the Field of Communication, Broadcasting, and Global Positioning, Discussion, Closing Session
Fourth Day :
Technical Tour: Kamakura Works, Mitsubishi Electric Co. Institute of Space and Astronautical Science (Sagamihara)
Report