APRSAF-5
The 5th Session of the Asia-Pacific Regional Space Agency Forum
Meeting Details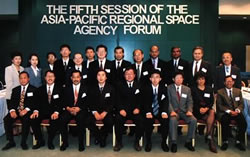 Background
APRSAF is an annual international meeting to provide an opportunity to representatives from space agencies and relevant international organizations of the Asia-Pacific regions to get together to exchange their opinions and coordinate their space policies.
At the Asia-Pacific Space Agency Forum which was held on the occasion of the International Space Year (ISY) of 1992, Japan proposed a meeting of APRSAF.
The first session of APRSAF was held in 1993, and since then, every year the meeting had been held in Tokyo until 1997 as follows:
The 1st Session : Tokyo, Japan / Sep. 1993
The 2nd Session : Tokyo, Japan / Oct.-Nov.1994
The 3rd Session : Tokyo, Japan / Mar.1995
The 4th Session : Tokyo, Japan / Mar.1997
At APRSAF-4, a delegate from Mongolia proposed to host a next meeting of APRSAF and consequently APRSAF-5 was held in Ulaanbaatar, Mongolia in June 1998
Participating Countries and Organizations
Bangladesh, China, India, Japan, Korea, Laos, Malaysia, Mongolia, Nepal, Philippines, Russia, Sri Lanka, Thailand, Vietnam, USA
NASDA's Roles:
As one of the organizing agencies, NASDA is in charge of not only planning and organizing the annual meeting of APRSAF, including secretariat functions, but also sending its staff to make a leading speech and other presentations at every Session of the APRSAF meeting.
Outline of the 5th Session
Organized by
Mongolian National Remote Sensing Center, Ministry of Nature and Environment
Science and Technology Agency of Japan
Institute of Space and Astronautical Science, Japan
National Space Development Agency of Japan
Date
June 21-23, 1998 (June 23 was for a technical tour).
Venue
Chingis Khan Hotel, Ulaanbaatar, Mongolia
Participants
Sixty including the Secretariat and observers.
They were representatives from 11 countries in the Asia-Pacific region, ESCAP, embassy staff and other relevant international organizations.
Program
General Chairman
Prof. Yasunori Matogawa, Institute of Space and Astronautical Science, Japan
Vice Chairman
Mr. S. Khudulmur, Director, Mongolian National Remote Sensing Center
Moderator
Mr. Masami Takemoto, Deputy Director, External Relations Department, NASDA
First Day (June 21):
One-day Technical Tour to Mongolian National Remote Sensing Center, Geology-SPOT Center, and Tourist Camps
Second day (June 22):
Welcome Address by His Excellency, Mr. S. Bayartsong, Minister of Nature and Environment
Keynote Address by Dr. V. Ramos, Secretary, Department of Environment and Natural Resources, Philippines, presented by Mr. V. Santos Director, National Mapping and Resource Information
Authority, Philippines
Keynote Report by Dr. M. Ganzorig, Cosmonaut, Director of Institute of Informatics,
Mongolian Academy of Science
Session 1: Space Science
Session Chairman: Mr. S.P.D. Alwis
(1) Introduction of the Japanese Space Science Programs
Third Day (June 23):
Session 2: Utilization of Satellite Data for Sustainable Development
Session Chairman: Dr. Toshihiko Ogawa
(1) Data Application Research and Cooperation in the Asia-Pacific Region
(2) Earth Observation Satellite Plan by NASDA, focusing on the Advanced Land Observing Satellite (ALOS)
(3) Promoting the User of Observation Data in the Asia-Pacific Region through the Global Observation Information Network (GOIN)
(4) Application and Research of Earth Observation Satellite Data over Mongolia
(5) Pilot Project in Thailand
(6) Indian Remote Sensing Program
(7) Remote Sensing and Their Application in Mongolian MAGIC PROJECT ?E General and Closing Remarks . General and Closing Remarks
Results of the Meeting
The technical tour to the National Remote Sensing Center and the Geology-Spot Center on July 21, 1998 gave us a good experience to know how Mongolia uses its remote sensing technology. At the meeting of APRSAF-5, there were 21 reports and presentations from the participants, and active discussion among them was made on the current space development activities in the Asia-pacific Region. Especially, presentations from the Mongolia delegates reaffirmed the listeners how much important remote sensing technology has a role to play in the land management and environment protection projects in Mongolia. In addition, presentations from Japan about the most up-to-dated space science and satellite development programs attracted much attention from the participants, and provided some useful information for their future space development in the Region. Furthermore, some people from foreign embassies and international organizations stationed in Mongolia joined the meeting as observers, and the two local TV stations broadcast the meeting.
Report