APRSAF-19

The 19th Session of the Asia-Pacific Regional Space Agency Forum (APRSAF-19), Kuala Lumpur, Malaysia, December 11-14, 2012
Registration/Visa/Accommodation
For inquiries, please contact at aprsaf19

aprsaf.org


Registration
The online registration form has been closed.
Those who wish to participate in APRSAF-19,
please e-mail to the ARPSAF-19 Secretariat (aprsaf19

aprsaf.org).
Visa
It is important for those participants from countries other than Malaysia to check their visa requirements for entry into Malaysia. The list of countries requiring visa is provided on the website of the Immigration Department of Malaysia at the following URL address:
http://www.imi.gov.my/index.php/en/main-services/visa/visa-requirement-by-country
However, in case of doubt, it is strongly recommended that you contact, as soon as you can, the Embassy or Consulate of Malaysia in your country to ascertain whether or not you require a visa and to check details of visa requirements, if any. Please note that it may take a few weeks to obtain a visa following the submission of visa application.
We should like to note that any cost involved in obtaining the visa should be borne by the participant concerned.
Any participant who requires an invitation letter from the local organization in Malaysia for visa application purposes should contact the following person:

Mr. Ahmad Ammar Bin Ahmad Termizi
Malaysia Space Centre, National Space Agency (ANGKASA)
Ministry of Science, Technology and Innovation
Lot 2233, Jalan Turi, Sungai Lang, 42700 Banting, Selangor, MALAYSIA
TEL: +60-3-3180-4377 Website URL : http://www.angkasa.gov.my
E-mail: aprsaf19

angkasa.gov.my
Accommodation
We have made arrangements with Berjaya Times Square Hotel (venue of APRSAF-19) for participants to receive special discount rates.
Berjaya Times Square Hotel (Hotel Map-1)
1 Jalan Imbi 55100 Kuala Lumpur, Malaysia
http://www.berjayahotel.com/kualalumpur/
Single room: MYR350nett (per person per night, including breakfast and internet)
Double room: MYR380nett (per 2 persons per night, including breakfast and internet)
*The both rates include tax and serrice charges
The above rates will be applied to those who have completed reservation by November 16.
After completing the registration, please access the following URL and fill out the required information.
URL: https://secure.mediatelier.com/aprsaf19/hotel.html
A registration form will be sent to you from Berjaya Times Square Hotel by e-mail. Please fill out the form by providing all required information and email or fax it to the hotel. When your reservation has been made , they will inform you by email.
The following 4 hotels are near the venue of APRSAF-19.
Please note that each participant is responsible for making or cancelling room reservation directly with the hotel concerned. APRSAF-19 Secretariat cannot take any responsibility associated with room reservation.
Hotel Map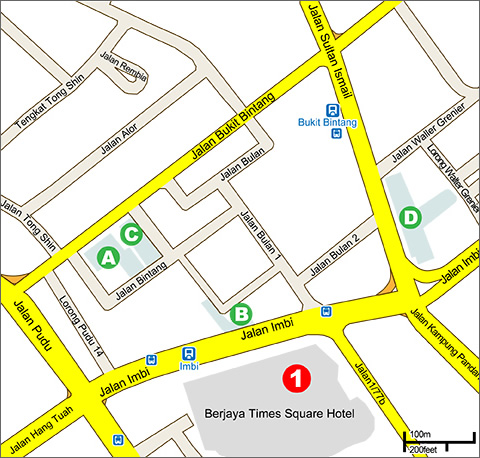 International and Local Transportation
Please note that the participants are responsible for making arrangements and covering the cost for
their international travel to and from Malaysia as well as for the local transportation, including the
one between the airport and the hotel and between the venue of the APRSAF-19, Berjaya Times
Square Hotel, and any other hotel. Local transportation will not be provided by the
co-organizers.
Information on the access to and from the Kuala Lumpur International Airport is available on the
following website: http://www.klia.com.my/
Insurance
Participants are highly recommended to arrange for their own overseas travel insurance. The organizers
of the APRSAF-19 are unable to take any responsibility for making arrangements or covering the cost
that might be incurred in association with any possible accident, injury and illness.