The 15th Session of the Asia-Pacific Regional Space Agency Forum
- Comments from Working Group Co-Chairs and Host Countries -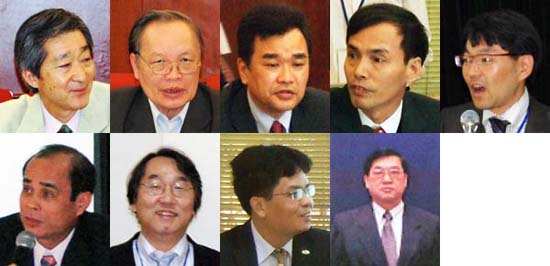 Dr. Takashi Moriyama, Earth Observation Working Co-chairman
Fellow, Earth Observation Research Center, JAXA
1. Overall impression
This EO WG has had more participants than other WGs (about 70 participants this time) and was a lively WG in which participants eagerly held discussions.
Especially in recent years, the scale of natural disasters has become bigger owing to various influences such as global warming, and the time is coming when we will have to seriously think about how to cope with environmental changes.
The themes of country reports and technical reports from each country that were presented in the WG were concentrated on how to make Earth observations useful and how each Asian country should deal with the abovementioned subjects.
We regard the Space Application for Environment (SAFE), which JAXA is recommending under the framework of APRSAF, as a new initiative which serves to bridge the gap between environmental problems and the application of Earth observation data for the administration in each country, and we eagerly discussed the issues that we should cope with from now on.
Also, emergency observations in Asia have already been made in the Sentinel Asia project, and we were honored to receive expressions of heartfelt thanks from stricken countries. I am very pleased that we were able to confirm that satellite data was used to determine the situation regarding natural disasters. I think we can be proud of that as one of the results of our WG.
2. Concrete results
I introduced the results of themes on forest and agriculture management and water resource management as a prototyping project of SAFE, which has been working with the authorities in Vietnam.
We selected the four following subjects as ones we should handle in SAFE in future: (1) integrated water resource management, (2) glacier shrinkage and glacier lake outbursts, (3) agriculture and forestry, and (4) ocean environment, coastal processes and sea level rises.
Furthermore, we reached an agreement on a concrete scheme in order to execute a new prototype of SAFE.
Following the scheme, as the procedure, we decided that user organizations would first make their proposals and then execute them after they had been evaluated by SAFE.
We decided to hold the first workshop of SAFE in May 2009 in Thailand, and we obtained permission to do so from the Plenary Session on December 12.
3. Main discussion points and results
There were very active discussions in order to decide new subjects in SAFE.
As a result, we were able to come up with subjects suitable for handling environmental problems in Asia.
When we nominated organizations to support the activities of SAFE, we received many offers from different organizations. Six organizations offered to give technical support, another six offered to help in data distribution, and another six offered to help with applying Earth observation data.
4. Expectations for the next meeting
We expect and hope that the activities of SAFE will have considerably moved forward by APRSAF-16 next year.
Accordingly, those new results will be mainly presented in the next EO WG.
Through the activities of SAFE, I think that how to use space data in each Asian region and whether such data is useful in practical terms will become important subjects.


Prof. Tran Manh Tuan, Earth Observation Working Co-chairman
Chairman of Scientific Council of Space Technology Institute (STI)
I participated in the Earth Observation Working Group (EO WG) of APRSAF-12 which was held in Japan in October 2005. This year, I have had the great honor of being the co-chair of EO WG of APRSAF-15 held in Hanoi and Ha Long Bay. This was a good opportunity for a large number of Vietnamese participants to attend APRSAF. This time, SAFE (Space Application for Environment) was the main topic for discussion at the EOWG. This topic has been attracting the attention of many countries in the region, especially Vietnam. According to a warning made by the United Nations, Vietnam is among those countries that will be hardest hit by climate change and rises in sea levels. If the sea level rises one meter, about 40,000 km2 of Vietnam's coastal deltas will be inundated, including about 90 percent of the Cuu Long (Mekong) River Delta. In addition, Vietnam will likely lose 12 to 15 million tons of rice a year and 20 million people will be made homeless by 2100.
About 70 participants in EOWG discussed the main themes of SAFE, such as: SAFE basic scheme, review of on-going SAFE prototyping, and nomination of prototype candidates. And they agreed to submit recommendations and actions to the plenary of APRSAF-15.
Finally, the APRSAF-15 plenary has:
Recommended that Space Application for Environment (SAFE) be a platform for developing solution-oriented prototype systems for environmental monitoring, and in particular to assess regional effects of climate change.
Appreciated the early success of SAFE prototyping (monitoring of land use and water resource management) in Vietnam, and recommended its extension to cover other countries and other themes.
Agreed on the SAFE basic concept for future prototype activities contributing to GEOSS.
Encouraged more participation from the scientific community and private sector affiliates to support space agency initiatives.
Agreed to hold the first SAFE workshop in Pattaya, Thailand in May 2009, hosted by GISTDA.
In my opinion, it was a very successful meeting. In contrast to the Sentinel Asia project, which needed real-time satellite data, the SAFE project required past data archives. I hope the number of countries participating in SAFE as a Data & Application Creator will increase.
I wish the SAFE project great success and I am sure its results will help countries in the region deal effectively with climate change and environmental degradation.


Mr Hiroki Kohhata, Communication Satellite Application Working Group Co-chairman
Senior Engineer, Satellite Applications and Promotion Center, JAXA
Before coming to Hanoi, I felt sure it will be very hot, even in December, in Vietnam. How wrong I was.
During the two days of December 9 and 10, with fine weather and a very comfortable climate for Japanese people, the Communication Satellite Applications Working Group (CSAWG) was held at VAST in Hanoi Vietnam.
Around 40 people, from 9 countries and 3 international organizations, participated in the WG. This year, there were discussions about determining positions with satellites, in addition to the topic of satellite communication that had been discussed so far.
There were nine presentations about satellite communication and five presentations about satellite positioning from various countries in the WG. And there were active discussions and exchanges of opinions including question and answer sessions. Furthermore, Japan proposed a workshop on the Global Navigation Satellite System (GNSS) for performing a feasibility study on its application, and that proposal obtained support not only from South Korea but also from every other country present.
In the field of satellite communication, there were presentations about two communication satellites which were successfully launched this year, VINASAT-1 of Vietnam and WINDS of Japan.
VINASAT-1 is the first communication satellite from Vietnam and various kinds of services have been implemented or are planned for it, and it is expected to develop.
A presentation for an experiment using WINDS, a Japanese experimental communication satellite, was given, in addition to an introduction about the satellite system. I felt that experiments using WINDS, which were invited through APRSAF, have come to fruition.
All countries are highly concerned about rain reduction - a weak point of a Ka band communication link, such as the one used by WINDS. We hope that experiments using WINDS will help to solve the issue of rain reduction.
A Japanese satellite communication agency gave a presentation on the current status of the satellite communication business in the Asia-Pacific region. I was very interested in explanations, made using stochastic data, about how although supply outstrips demand for satellite communication all over the world, there are a wide variety of communication agencies and satellite communication agencies of various countries are booming, especially in Asia.
Furthermore, on the subject of protecting against disasters, there was a report about a field study on the 2008 Sichuan earthquake, and the importance of satellite communication during disasters was explained, based on concrete examples.
There were country reports from India, Indonesia, Thailand and Mongolia and the current situation and future plans of each country were introduced.
In the field of GNSS, which has been expected to develop in future, the satellite positioning systems of Japan, India and South Korea were introduced. In addition, Japan presented an application of the Quasi-Zenith Satellite System (QZSS) which is under development.
In addition to introducing Japan's QZSS and the Indian Regional Navigation Satellite System (IRNSS) of India, South Korea is now considering whether to adopt RNSS in future, and some countries including Indonesia are very interested in GNSS.
Accordingly, I was keenly aware that this CSAWG at APRSAF from now on will play an important role as a place for exchanging information about GNSS in the Asia-Pacific region.
Amid this environment, I think that an agreement to hold a workshop, where the future possibility of applying GNSS in the Asia-Pacific region will be discussed, will help to promote mutual cooperation in this field.
In the fields of GNSS and satellite communication, every country has its own plans and has already executed them, but it is also a fact that the speed and level of development is different in each country.
I think that under such conditions, by having each country share precious information and experiences with other countries, and promoting cooperative relations for application, CSAWG may contribute to a further development in the fields of satellite communication and GNSS.
And also I realized that to do that, we should set up specific plans for cooperation in these fields in future.
Finally I am deeply grateful to Dr. Vu Van San, Deputy Director General at the Department of Science & Technology, for his great help in facilitating the proceedings as co-chairman, to all participants of this CSAWG, and to the secretariat of APRSAF.


Dr. Vu Van San, Communication Satellite Application Working Group Co-chairman
Deputy Director General, Department of Science & Technology, Ministry of Information and Communication (MIC)


Dr. Takashi Kubota, Space Education & Awareness Working Group Co-chairman
Professor, Department of Spacecraft Engineering, JAXA/ISAS
The Space Education & Awareness Working Group (SEA W.G.) at APRSAF-15 was held on December 9 and 10, 2008 at the Vietnamese Academy of Science and Technology (VAST) in Hanoi, Vietnam.
In this working group, we promote organizations in Asia-Pacific regions and international organizations related to space activities to try to foster not only talented persons who will become leaders in future space activities, but also a younger generation having widespread wisdom and abundant talent through teaching activities using themes relative to space.
There were thirty-three participants from ten countries and three international organizations in the working group this time, and we eagerly discussed how to promote space education.
At the beginning of this meeting, the very interesting activities for space education made by each country in 2008 were so eagerly introduced that I wished we had more presentation time.
I think we were greatly stimulated by learning about each educational activity and could connect that to the next step.
We widely exchanged our opinions on the following items and confirmed the promotions for various kinds of activities.
*Water rocket convention and poster contest for elementary, junior high-school, and high-school students.*Cooperative teaching activities for university students and young specialists.*Space education seminar for teachers.*Promotion of cooperation between educators and space science engineers.*Efforts for international educational relationships.*International cooperation among regions through space education.
And also we confirmed the need to promote the use of the online Wiki site, aiming to construct a network relating to educational activities.
This site was set up in cooperation with the Victoria Space Science Education Center for teachers or educators, based on the results of the International Water Rocket Workshop, which was held in June 2008 in Melbourne, Australia.
We think that the site will greatly aid in the exchange of education materials and information relating to water rocket activities for the purpose of education.
Furthermore, our group organized both the Poster Contest during APRSAF-15 and the Water Rocket Convention, held on December 13 and 14 in Hanoi after the end of APRSAF-15.
The theme of the Poster Contest was "Wonders of the Universe" and twenty-four posters made by children aged eight to eleven coming from eight countries were on display during APRSAF-15. We reported in the plenary session on December 12 that some excellent art had been selected in a vote by the participants of APRSAF-15.
I was moved when some people who were impressed by the developed creativity of the children gave them great applause.
There were lectures on space at VAST on the first day of the Water Rocket Convention. And on the second day, a competition of launching water rockets, in which thirty-one students aged twelve to sixteen from nine countries participated, was held on the grounds of the Vietnam National University, Hanoi.
In the course of the orientation, students introduced their countries in their own way, which made for a very friendly atmosphere.
At the convention, the competitors were interested in the rockets of their opponents because the shapes of the rockets and how they had been made differed, even though the same materials had been used, and there was international exchange thanks to that interest.
We realized that we could truly practice space education through these rockets.
As mentioned above, we confirmed in this meeting that from now on we would all promote various kinds of popularization activities for space education through this working group. The aim is to enhance the understanding of the younger generation and educators about the blessings that space science technology and its applications as well as space activities bring to everyday life and society.
We would like to say here that we unanimously agreed to hold the water rocket convention and poster contest next year too.
Finally, I am deeply grateful to the staff of VAST who hosted this APRSAF-15, to the staff of the Vietnam National University, Hanoi, and also to all collaborators.


Dr. Doan Minh Chung, Space Education & Awareness Working Group Co-chairman
Vice Director Space Technology Institute (STI)
The Space Education & Awareness Working group (SEA WG) is one of the four WGs of APRSAF-15 which was held in Hanoi and Ha Long, Vietnam from December 10 to 12, 2008. In addition, SEA WG had the following two days (December 13-14, 2008) to hold the Poster Contest (PC) and Water Rocket Event (WRE), which was participated in by 20 students and about 30 teachers and specialists from the Asia-Pacific region.
In the meeting section of the SEA WG members, many country reports are given on space education activities in the members' respective countries. The reports detail the many interesting activities supported by space education institutions, space research organizations and governmental agencies. In some countries (such as Japan, Australia, Thailand, and South Korea) space science education has greatly developed, which encourages junior students to become interested in and start studying space science and technology from a young age. Through these activities, they should become very good astronauts and space technology engineers in the near future.
The WRE and Poster contest are very popular with all junior students. The students design and make different types of water rockets, and draw and imagine how children and people live and work throughout a universe that is very interesting.
Over two days from December 13 to 14, 2008, the WRE - APRSAF-15 was held in VAST. It included many presentations about the Sun, stars, astronomy, the Moon, and similar topics. In addition, WRE was held in the stadium of Hanoi Pedagogic University. It was very exciting and provided a good chance for junior students from different countries to make friends with each other. They had their pictures taken, joined in memorial signing, exchanged name cards and said they hoped to keep in contact.
Recently, the students also had friendship lunches and dinner receptions with delicious food from Vietnam, and were offered interesting gifts from JAXA and VAST. They were very sweet, memorable and unforgettable days in Hanoi, Vietnam.
The result of the WR competition has been announced. First prize went to a student from Singapore; second prize was awarded to a Japanese student; and third prize went to five students. They received awards from the organizers and had their picture taken with their country team.
We are responsible for bringing smiles to children's faces, and giving them knowledge about and a passion for space science and technology through such activities.
Vietnam has been engaged in these activities for only three years, but has drawn the interest and attention of the community through its national television programs called "Science and Technology" and "Creative corner". Many secondary schools have taken up the topic of "Water Rocket and launcher design and manufacture" as an extracurricular subject.
SEA WG has decided to continue with the Poster contest and Water rocket competition in APRSAF-16.
In order to promote these activities, we need much more attention, efforts and support from society, the government, educational organizations and the community. And especially we need financial support from various sources for our beloved children.


Mr. Tetsuo Tanaka, Space Environment Utilization Working Group Co-chairman
Director, Space Environment Utilization Center, JAXA
At the 14th APRSAF 2009, we changed the name of our working group from the Space Station Working Group (SS W.G.) to the Space Environments Utilization Working Group (SEU), and we are now widely discussing how to exchange information or cooperate in the field of space environments utilization in the Asia-Pacific region.
Our W.G. meeting was held this time on December 10, lasting only one day, and there were lively discussions among the fifteen applicants from nine organizations in seven countries.
I am grateful to Dr. Pham Anh Tuan, Co-Chair, Vice Director of the Vietnam Academy of Space and Technology and the participants for their help.
In 2008, the Pressurized Module (PM) of Kibo was attached to the ISS in March and a series of experiments on Kibo began at last in August. And so, 2008 became a memorable year for our members of SEU W.G. as well as for Japan.
So far, we have studied the possibility of collaborating in experiments on Kibo, and applicants have come to have high expectations for that because their chance of using Kibo has became more realistic now that Kibo has begun operations.
At this good opportunity of the meeting, we were able to confirm again that we could promote concrete activities toward the joint utilization of Kibo and to share with each other information on space environments utilization.
At the first phase of this meeting, there were reports from each country or organization on their activities in the fields of space environments utilization.
ESA participated in this meeting for the first time and introduced the Columbus program, ATV, and the European programme on Life and Physics Sciences in Space (ELIPS), in addition to inviting cooperation with Asian countries.
Furthermore, ISRO in India introduced its Space capsule Recovery Experiment-2 (SRE-2), to be launched in 2009, and also invited possible scientific cooperation with Asia-Pacific countries on SRE-2.
A commercial company in Japan also participated in this meeting for the first time and introduced some types of commercial utilization of Kibo and the role of commercial companies in the activities of space environments utilization.
Many participants expressed their opinions that it would be effective if details of the experimental processes on Kibo were frequently posted on the JAXA ISS Website, including video clips, in order to give researchers in each country and persons in space organizations a better understanding about space experiments.
We have so far promoted such activities but we realized that we need to do more to further introduce the activities related to Kibo.
We discussed how to improve the flight experiment contest for students and we recognized that it is most important to give people a chance to experiment stably.
And we concluded that we will promote the contest as a midterm program with adjustments made between each country.
I hope that through information exchange and discussions at APRSAF, not only will we achieve cooperation in the use of Kibo, but also lateral or multilateral cooperation in various application fields of space environments utilization.


Dr. Pham Anh Tuan, Space Environment Utilization Working Group Co-chairman
Vice Director, Space Technology Institute (STI)
Wishing much peace, love, health and happiness to all in 2009!
The year 2008 has been a fruitful year for Vietnam, especially with the successful organizing of APRSAF-15 from December 9 to 12, 2008 in Hanoi and Ha Long Bay. On behalf of the host country of APRSAF-15, I would like to thank the delegates, international guests, and representatives from 26 countries and 5 international organizations, who came to Vietnam to participate in this important forum.
International co-operation is very important for the development of VAST/STI and we have been extending our collaboration with many other international organizations and forums in the field of space technology, including the Asia Pacific Regional Space Agency Forum (APRSAF). The 15th APRSAF was held for the first time in Vietnam with the theme "Space for Sustainable Development." It was an important opportunity for Vietnam to strengthen and expand its collaboration with other countries in the Asia-Pacific region and all around the world, in terms of space technology application. During the four days of APRSAF-15, international delegates from the four working groups of Earth Observation, Communication Satellite Applications, Space Environment Utilization, and Space Education & Awareness have been discussed effectively to recommend joint activities and researches between Asia-Pacific countries for the objective of "Space for sustainable development."
In 2008, Vietnam achieved some successful results in the space field. It successfully launched its first communication satellite VINASAT-1 in April 2008. That satellite was manufactured by U.S. Lockheed Martin and was launched by Arianespace. With this launch, Vietnam became the sixth nation in Southeast-Asia to have its own satellite, after Thailand, Indonesia, Malaysia, Singapore and the Philippines. Besides, some other space programs went as scheduled. The Hoa Lac Space Center Project was studied with a feasibility report by a Japan JETRO study team. In addition, an Earth observation satellite was scheduled to be launched by 2012, and now that project is under investigation.
We hope that APRSAF will continue its contribution by providing opportunities for sharing experiences and resources in space technology and applications among the countries in the Asia-Pacific region. Finally, I hope APRSAF News will prove to be a successful medium in bridging the gap in space-related fields.
Happy New Year 2009!
Host Country: APRSAF-14
Host Country: APRSAF-15


Host Country: APRSAF-16
Dr. Thongchai Charuppat
Director, Geo-Informatics and Space Technology Development Agency (GISTDA)