World Space Week 2008 Celebrated at Enayetpur, Bangladesh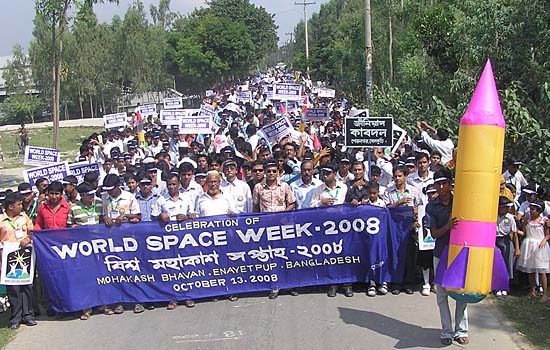 World Space Week is a program of the United Nations aimed at creating space awareness among school students, and it is being celebrated every year in October in about 52 countries around the world (www.worldspaceweek.org). Since 2003, Bangladesh has been participating in this celebration and Bangladesh's main event of this program is held in Enayetpur. This year, the celebration of World Space Week was held in Enayetpur on October 12 and 13 on a spectacular scale. On the morning of October 12, the Space Art Contest was held within the compounds of the Space Art Gallery of Mohakash Bhavan, and about 200 students took part. At noon, water rocket, air rocket and balloon rocket contests were held in a field north of Enayetpur High School, and in the evening a sky observation program was arranged by the Science Museum, Dhaka on the bridge over the River Jamuna and hundreds of students and space enthusiasts clearly observed the surface of the Moon through a 12-inch-diameter telescope.
On the morning of October 13, thousands of students from 26 schools and 1 college from different areas of Bangladesh formed a colorful gathering with banners, posters and rocket models in their hands, strolled along the streets of Enayetpur and assembled in the premises of Mohakash Bhavan. There, the students participated in activities such as space dancing, space narration, space quizzes, and space debates. The Science Museum also arranged a space quiz and offered prize bonds for Tk 4,000 to successful contestants. Then the teachers and guests delivered their lectures and the celebration ended at 3 p.m. after the prizes - mainly books on astronomy and space science - had been distributed to the participants of different contests.
The main attraction of the celebration was the tumultuous reception offered to F. R. Sarker, the General Secretary of the Bangladesh Astronomical Society and the first zero gravity flyer in Bangladesh. He attended the meeting wearing the uniform he wore on his zero gravity flight and described his experience in zero gravity simulation during his flight on May 24, 2008 from Las Vegas, USA. He also replied to various questions asked by the students about zero gravity flight. F. R. Sarker also explained the necessity for space education and research as space is going to be the most prospective arena of employment and business in the near future.
Among those who gave lectures in the meeting were Dr. Rezaur Rahman, the Honorable Member of the Bangladesh Astronomical Society; Ibrahim Khalullah Nabi, Coordinator of Bangladesh Math Olympiad Committee; Prof. Lokendra Nath Ghose, Principal, Khamargram College; Abdul Matin, Senior Teacher, Enayetpur High School; Masudur Rahman, an official at the Science Museum; Saidul Islam, Space Enthusiast; Wahiduzzaman Wahid, Principal, ICL School and Secretary, of the Local Organization Committee of World Space Week; Mr. A. F. M. Hasan, Upozilla Education Officer, Gaibandha; and F. R. Sarker the Board Director and National Coordinator of World Space Week Association, USA.
(Mamun Ahamed Sharif)
Office Secretary