The Fist Joint Project Team Meeting for Sentinel Asia for Step Two (1st JPTM for SA2)
-Comments from Participants-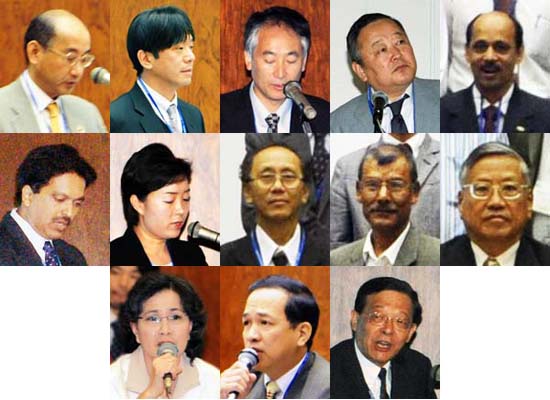 Organizer

Dr. Masanori Honma
Assistant Executive Director of the Japan and the Japan Aerospace Exploration Agency (JAXA)
At this JPTM meeting, over 64 various participants (from 18 countries) eagerly held debates and I think they made this meeting productive.
I also think it was recognized again at this meeting that space agencies, disaster prevention agencies and institutions such as universities in the Asia-Pacific region have been able to work effectively and in an integrated manner, while working in close cooperation with each other, to effectively promote this Sentinel Asia project during the two and a half years since its establishment.
Under the framework of the international disaster charter, satellite data is being provided at times of disasters. However, the activities of Sentinel Asia not only include providing data at times of disasters, but before that they also include creating hazard maps, and distributing and conducting training in analysis software and maintaining distribution networks so that those things can contribute to ordinary activities, to reflect satellite data in disaster prevention plans.
On the basis of the implementation plan at the new phase (Step 2) being agreed on this time, we would like to strongly promote this project in cooperation with you so that even better quality information can be transmitted more effectively, and so that we can contribute to disaster areas in Asia.
In particular, it was agreed this time that disaster protection agencies from each country should process and analyze satellite data by themselves. I think this means that the use of satellites has taken root, and it is a great development.
Finally, I would like to say that I really appreciate the great efforts that the participants, ADRC people and leaders of working groups made so that this meeting could be held.

Co-Organizer

Mr. Koji SUZUKI
Executive Director of the Asian Disaster Reduction Center (ADRC)
There were some remarkable results, mentioned below, at this, the first JPTM meeting in the second phase of Sentinel Asia held in Kobe.
As one of the results, the possibility has arisen that disaster protection agencies such as the ADRC may analyze for themselves the satellite data images provided by satellite-related agencies such as JAXA, from the point of view of disaster prevention. The ADRC has so far played a main role in mediating between the satellite-related agencies and disaster-protection-related agencies under the framework of Sentinel Asia. We think that from now on there is a possibility we will be able to give some added value to the framework in our own way, from the point of view of disaster prevention.
In some countries covered by Sentinel Asia, there have been cases where it has taken a very long time to download a large volume of satellite images because of the poor Internet environment.
Aiming to improve this situation, a plan of using equipment such as communication satellites and mirror servers was proposed this time.
And also I think it is great progress that under the framework of Sentinel Asia, monitoring and other measures related to the collapse of glaciers and glacial lakes, events about which people are concerned and which are related to climate change, were proposed as a way of using new satellite technology to prevent disasters.
We, as the ADRC, would like to continue on from Phase 2 and implement activities in places such as international conferences to deepen the understanding about using satellites to prevent disasters, while promoting the use of satellite technology by training the people in charge of disaster management in satellite technology.
We have also, in our own way, began preparations for cultivating a basic technology for analyzing satellite images by receiving satellite data images.
We are going to make a contribution from the viewpoint of international cooperation for disaster prevention, so that satellite images will be able to be used further in order to improve disaster prevention capabilities in Asia.

Chair of the Flood Working Group

Mr. Kazuhiko Fukami
Leader of the Hydrologic Engineering Research Team, Water-related Hazard Research, International Centre for Water Hazard and Risk Management (ICHARM)
I participated as chairman of Sentinel Asia's flood working group, which aims to promote flood disaster-related monitoring and information exchange for the Sentinel Asia project.
We recognize that in the field of monitoring forest fires, schemes to automatically detect and identify fires by using information such as infrared images have already been developed.
In the field of flood monitoring, however, the present situation is one in which we need human manpower in order to precisely detect and identify flooded areas, activities that are indispensable for disaster mitigation on a local level.
So I always feel that the capacity for flood monitoring is limited by the number of volunteers available.
Even under these conditions, the results of various kinds of pioneering and empirical efforts are now being accumulated in Asia.
Therefore, we in this flood working group also wanted to realize a scheme to enable information to be shared as quickly and simply as possible in this Sentinel Asia project, and we proposed and discussed some useful ways to establish such a scheme.
I realize there were not many participants from the flood management authorities that are directly responsible for the on-the spot management of river and water resources.
I always keenly feel that persons related to space agencies have a strong will to distribute information to the flood disaster field.
I, however, think that in reality there is a large gap between us and the people who are in charge of flood management on-the spot, and I think we have to continue making efforts to close that gap through outspoken discussions.
In that sense, I am going to make efforts to strengthen the relationship with various kinds of initiatives in Asia other than Sentinel Asia.
Finally, I would like to say that the Sentinel Asia project, which is providing us with such good opportunities, is very precious and I greatly appreciate the efforts of all concerned.

Chair of Wild Fire Working Group

Prof. Masami FUKUDA
Professor of the International Arctic Research Center, University of Alaska Fairbanks, Japan
This JPTM was held in the first year of the STEP2 starting from 2008 and it was an important meeting to decide future plans and purposes.
We in the wildfire working group have not yet completed the revision of the fire-detecting algorithm by using MODIS data, which was an action target of STEP1, but we confirmed that we will be able to make efforts to implement the revised algorithm at an early stage.
JAXA, Hokkaido University, CRISP and Seoul National University have already jointly developed a new algorithm, and we are aiming to provide and make publicly available information about hot spots using the revised algorithm this fiscal year.
And also we are going to provide not only information about hot spots, but also information about strategic hot spots based on predictions of spreading fires, which is important information used for prompt fire fighting by the fire-fighting organizations at the actual spots.
So the team from Hokkaido University is aiming to establish an information-providing system at an early stage.
The wildfire working group is used by fire-fighting organizations all over the world. And it is also, therefore, important to establish communication methods and ways to directly transmit information about strategic fires to the on-the-spot firefighters in real time.
The holding of JPTM every year is also beneficial in terms of managing such kinds of plans and the status of fire-fighting organizations around the world, and establishing effective procedural methods for them.
We recognize that this JPTM has also been able to accomplish these things.

Participant

Mr. A. Z. MD. Zabedul Islam
Senior Scientific Officer, Flood and Drought Application Group, Bangladesh Space Research and Remote Sensing Organization (SPARRSO), Bangladesh
The data from the Sentinel Asia project are very useful for monitoring disasters in Bangladesh.
Particularly, the PALSAR data set from the Japanese satellite ALOS is very useful for us. Because particularly during monsoons (the flood season), Bangladesh is fully overcast by clouds and it is very difficult to use optical data.
We have our own ground station for receiving NOAA data, but we need more data like PALSAR data when pursuing goals such as flood monitoring. We are short of primary data for making flood datasets and DEM.
So we think PALSAR data and other high-resolution data from Japanese satellites are very useful for us.
The ALOS data set in particular is very useful for Bangladesh, and not only PALSAR but also hydromission data will be very useful for generating base line data to assess the damage after floods.
And also the ALOS satellite has another good sensor like AVNIR2.
Hydromission data from the ALOS satellite are very useful.
The hydromission data from AVNIR2 and microwave data from PALSAR will all be very useful for Bangladesh.
When we have some disasters, if we have hydromission data then we will be able to assess the damage to the infrastructure, so hydromission data also will be very useful for Bangladesh.
I would like to believe that Sentinel Asia will be providing those data sets.
Expectations for STEP2 of Sentinel Asia
We expect to get data sets for monitoring disasters from Step 2 of Sentinel Asia. If Sentinel Asia has some mechanism for cooperative joint projects including the country of interest, like Bangladesh, and the contributing country like Japan, for resolving some very critical issues like the damage caused by floods, those joint research projects will be very useful for Bangladesh.
So I expect that in Step 2 of the Sentinel Asia project, there will be some mechanism for development of joint collaborate research between two or three countries, and that will be very useful for Bangladesh.
Also in Step2 we expect to develop a very good mechanism for providing real time data during disasters so that we can use data for monitoring disasters.

Participant

Dr. Ganesha Raj Kasaregod
Scientist, of the Indian Space Research Organisation (ISRO), India
The meeting was well-organized with clear agenda and focused discussions.
Free and frank discussions on various aspects of Step 2 were the other highlight.
Adequate time was given for all the participants to express their views.
The focus on adding value to data, analyzing data and the end utilization of data by users will greatly help efforts for disaster management
The tour of the Great Hanshin-Awaji Earthquake Memorial - Disaster Reduction and Human Renovation Institution was one of the most educative and memorable visits I have ever had, the way Kobe was "built back better" was amazing.
Above all, the kind, warm-hearted and disciplined Japanese people have impressed me very much.

Participant

Dr. Hyo-Suk Lim
Head of the Satellite Date Information, Korea Aerospace Research Institute (KARI), Korea
It was nice to have a Sentinel Asia meeting in Kobe, a place that has special significance in terms of natural disasters, and a place that has perfectly recovered and is now better than it was before. Most of the participants may have had respect for the wonderful reconstruction of Kobe. I sincerely appreciate sharing the experience of recovering from and preventing disasters. I want to suggest a better service for Sentinel Asia. My concerns are as follows:
Fire and flood working group
Encourage developing countries to join in the activities and not just spectate.
Leading groups and Japanese scientists should distribute models and data to developing countries as soon as possible.
Data such as information on rainfall and DEM must be prepared without delay.
Although there was one participant from Myanmar, there were no reports about that country. Sentinel Asia should encourage people to make presentations.
If possible, all presentation material should be distributed before the meeting. In that way, most participants will be able to ask many more questions and find common ground.

Participant

Mr. U. Thein Tun
Deputy Director General of the Department of Meteorology and Hydrology (Myanmar)
The first JPTM for Sentinel Asia STEP2 was very comprehensive and greatly beneficial in terms of disaster preparedness and disaster management.
The Department of Meteorology and Hydrology would like to receive half-hourly and hourly data sets before, during and after disasters.
It will be more effective if you inform us that useful data sets are available on your website when a cyclone is approaching our coast.
Our country also suffers from river floods and flash floods. We do not have sufficient meteorological and hydrological stations in the upper catchment areas of rivers.
If we could receive half-hourly data sets that would also be useful for flood forecasting.

Participant

Mr. Durgendra Man Kayastha
Chief Survey Officer of the National Geographic Information Infrastructure Project, Survey Department, Nepal
The general meeting of the participants of JPTM Step 2 focused on reviewing the past work and also deliberated on the work plans and the activities to be undertaken in the future.
For my own interest, I have participated in the deliberations of the Flood Working Group. The discussions were very helpful, especially those regarding the creation of DTMs using satellite imagery data such as Aster and Alos-Prism. DTMs are one of the important components of analyses relating to flood simulation, and so the resolution and accuracy of DEMs is vital.
The field trip to the Disaster Reduction and Human Renovation Institution (DRI) was a very good experience. The visit has successfully instilled the urgency and importance of working together in times of disasters like the Great Hanshin earthquake.
The new JPTM for Sentinel Asia Step 2 is a welcome step towards realizing a platform to share the knowledge and data required for disaster mitigation initiatives.
Disasters like floods and fires are very common in most parts of the Asia-Pacific region, as is the case in other parts of the world. Making arrangements so that emergency data can be requested has been very useful for assessing disasters immediately after they occur. Yet the important point is to minimize the effect of natural disasters, for which a preparedness plan is even more important. In such cases, the importance of updated spatial information cannot be overemphasized. But such information is hard to find in many cases, especially so in a developing country like Nepal where, because of financial constraints, it is not possible to acquire the latest satellite imagery very often. So, national mapping agencies should focus their efforts on updating spatial datasets using remote sensing imagery as early as possible, and revise and review their data policies if necessary. This will help improve access to and delivery of the necessary spatial data to disaster management agencies.

Participant

Dr. Suvit Vibulsresth,
Executive Board Member of the Geo-Informatics and Space Technology Development Agency (GISTDA), Thailand
I have been participating in JPTM since the second time it was held, and also in APRSAF, and I think this time we had some very interesting topics.
The co-organizer was ADRC, which is a very important organization.
Sentinel Asia is a project to try to mitigate disasters, and we are very happy to have ADRC participate in it.
To ask JAXA to obtain some satellite data of disaster areas, the country had to go to ADRC.
ADRC's participation and also the fact that Mr. Suzuki, Director of ADRC, said that ADRC would be more active and give more support to Sentinel Asia were excellent results.
And also the participants from different countries made great efforts to support or complement what JAXA is committed to doing.
Further, JAXA has shown that Sentinel Asia is very useful and JAXA is providing very good support and initiating projects to support the Sentinel Asia project.
I think it was a very successful meeting.

Participant

Dr. Darasri Dowreang
Deputy Director of the Geo-Informatics and Space Technology Development Agency (GISTDA), Thailand
The number of participants in JPTM has grown considerably compared with the first JPTM, held in Hanoi in 2006. The meeting has indicated the growing interests both within and outside the region. The expansion is not only in terms of members but also in terms of the application fields. This Sentinel Asia Step 2 promises to be a productive data-sharing and human network dedicated to disasters in the region.

Participant

Dr. Nguyen Dinh Duong
Director of the Department of Environmental Information Study and Analysis, Vietnamese Academy of Science and Technology (VAST), Vietnam
The first Join Project Team for the Sentinel Asia Step 2 meeting was held in Kobe over the two days of June 5 and 6. I think the meeting was successful in providing an outline of the next step of the Sentinel Asia project. I appreciated very much the smooth logistics of the meeting. The accommodation was wonderful. I greatly enjoyed the view of the bay from the window every morning. The meeting gave me a chance to talk with other members of the JPT about activities related to Sentinel Asia. In my opinion, disasters are critical moments for the environment. If we really want to understand disasters and to control them, we should understand the environment also in times of normality. Therefore, the launch of SAFE - Sentinel Asia for the Environment - is quite essential for the success of the Sentinel Asia project as a whole. I joined the discussion of the wildfire working group. I understand that there is a strong need for collaboration among members in both research and practical implementation, but actually I would prefer to see practical solutions, such as the development of new formulas or algorithms to improve the accuracy of hotspot detection, rather than theoretical research.
It was my first time in Kobe. I enjoyed the city and especially the tour to the museum of earthquakes. I had often heard about the Great Hanshin earthquake, but the way it was simulated in the museum was so impressive and so lively. I realized that the need for disaster management is extremely vital for any society. I wish the Sentinel Asia project great success and hope that it soon becomes a real sentinel for Asia.

Participant

Mr. Guoxiang Wu
Chief of the Space Technology Applications Section, United Nations Economic and Social Commission for Asia and the Pacific (UNESCAP)
UNESCAP has been cooperating with JAXA to promote Sentinel Asia, and I therefore have attended many Sentinel Asia activities since its initiation. However, this is the first time I have felt pressure to speed up the development of a platform to support information sent from space for reducing risks of disasters in the Asia-Pacific region, and the timeliness of the First Joint Project Team Meeting for Sentinel Asia Step-2, after two of the most devastating disasters in history: Cyclone Nargis on May 3 in Myanmar, and the earthquake in China on May 12.
The responses to the earthquake in China have well indicated what contributions space applications could make to the efficiency and effectiveness of disaster rescue and relief activities. I am confident that the combined uses of JAXA's satellite resources in remote sensing and communications, which were committed to by JAXA at the meeting, would give the countries participating in Sentinel Asia an excellent opportunity to understand what synergic value space technology could create for their effective disaster management, and what practical benefit they could get from Sentinel Asia and other relevant initiatives during major disasters.
I am also glad that some recommendations, which were made at the regional symposium held in March in Bangkok, were positively considered at Sentinel Asia. The possibility for the development and provision of appropriate value-added products and services, and for providing services for monitoring some major disasters at the request of users, would make Sentinel Asia more valuable to those countries lacking the relevant technical capabilities to make space data into useful information for their decision-making processes.
I believe that such improvement in the services of Sentinel Asia have paved the way for its success, and its successful technical implementation will lead to the establishment of a more permanent regional-supporting arrangement for space information for disaster management, with higher political commitments from both the beneficiary and contributory countries.