Space Environment Utilization Working Group
The 1st Space Exploration and Kibo Utilization for Asia Workshop was successfully held on May 28, 2015 in Jakarta, Indonesia. The workshop saw approximately 100 participants from 15 organizations in the Asia-Pacific region. The results of the workshop will be reported at APRSAF-22 in Bali, Indonesia, in December.
- First Announcement
- Registration Form
- Final Announcement
- Final Program
Group Photo

Rear view of the workshop

Mr. Yoshinori Yoshimura, APRSAF ExCOM Chair, JAXA (left) and Prof. Dr. Thomas Djamaluddin, LAPAN Chairman
From Kibo into Deep Space and Beyond (4m 41s)
Objectives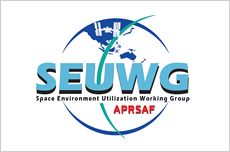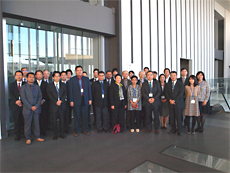 Space Environment Utilization Working Group
The Space Environment Utilization Working Group (SEUWG) was established at APRSAF-12 as an opportunity for countries in the Asia-Pacific region to use the "Kibo" Japanese Experiment Module on the International Space Station (ISS/Kibo). For further utilization of the space environment, the WG shares needs and exchanges information on subjects related to the advantages and framework of using ISS/Kibo's special function. The WG aims to promote utilization of ISS/Kibo among Asian countries in cooperation with Japan, the only ISS-participating nation in the region, in the fields of life science, space medicine, physics/materials science, space observation, earth observation, and advanced technology demonstration.
The WG has begun exchanging information on space exploration and space medicine that was presented at APRSAF-21 to enhance cooperation in the region for future international exploration extending beyond the ISS program.
Activities
Promotion of space environment utilization in the region
1. ISS/Kibo utilization by Asian countries
Implementation of the Second High-Quality Protein Crystal Growth Experiment
Feasibility studies for life science experiments and CubeSat development and deployment
2. Special Session on Space Medicine (new activities)
Recent international trends in space medicine research
Advancement of joint research projects and feasibility studies on tele-epidemiology based on recommendations from APRSAF-21 and implementation of an interdisciplinary approach that includes the areas of space medicine and satellite technology
Promotion of space exploration (new activities)
At the first session at APRSAF-21, participants shared the view that future international space exploration programs would contribute to protection of the Earth's environment and advancements of science/technology among participating nations. They also agreed on the purpose and importance of post-ISS international cooperation programs.
1. Special Session on Space Exploration (to be held at APRSAF)
To introduce recent activities and status of space exploration as well as the International Space Exploration Forum (ISEF) and exchange views among countries in the Asia-Pacific region
2. Space Exploration Workshop (to be held in May)
To ensure the firm progress (depending on capacity) in the region toward developing and conducting their missions, dedicated workshops will be held once a year to promote future international space exploration.
News and Updates
Links