Space Education Working Group
News and Updates
APRSAF-25 Water Rocket Event
APRSAF-25 Water Rocket Event will be held from November 2nd to November 4th in Singapore.
Information documents are available from the links below.
APRSAF-25 Poster Contest
APRSAF-25 Poster Contest will be held in Singapore from Tuesday, November 6th to Friday, November 9th, 2018, along with the 25th Session of the APRSAF.
The document of the contest rules is available from the link below.
Objectives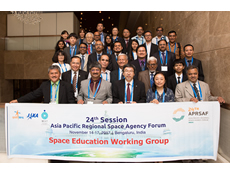 Space Education Working Group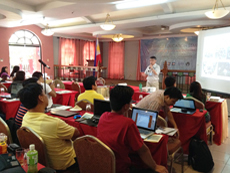 Space Education Seminar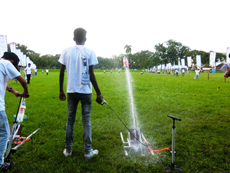 Water Rocket Event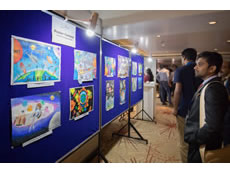 Poster Contest
The Space Education Working Group (SEWG), formerly known as the Space Education and Awareness Working Group, was established in 2001 for promoting space education activities including space topics and providing opportunities for space education. The SEWG is now performing its activities with the aim of :
i) effectively using space education materials to enhance education for young people;
ii) providing education and training opportunities for young people in space science and technology;
iii) helping enhance mutual understanding among countries in the region through exchange opportunities for young people.
Activities
Water Rocket Event for education
Since 2005, the Water Rocket Event is organized each year, immediately preceding the APRSAF session, attended by approximately 60 students ages 12 to 16 from over 15 countries.
Poster Contest for young people
The Poster Contest is held during the APRSAF session since 2006 for children ages 8 to 11.
Space Education Seminars / Workshops for teachers
The Space Education Seminars provide training opportunities for educators with the aim to support teachers to incorporate space education activities and materials effectively into their classrooms.
CanSat for students
The working group promotes CanSat activities for secondary school, university and graduate students at various occasions.
Social Media Usage
The WG opened a Facebook page from December 2012 for exchanging information on space education.
Concept Paper
Poster Contest Calendar
This calendar is published by the ASIA-PACIFIC REGIONALSPACE AGENCY FORUM (APRSAF) Space Education Working Group, which encourages the use of space materials to enhance education for young people and aims to stimulate intellectual curiosity and passion of young people through their involvement in space activities.
The drawings and paintings presented in this calendar were selected from entries from children ages 8 to 11 for the twelfth APRSAF Poster Contest, held under the "United Through Space", and displayed during the twenty-fourth session of APRSAF, held in India in November 2017.
APRSAF Space Education Working Group proudly presents the creative artwork of children in Asia and the Pacific.
You are welcome to produce copies of this calendar and distribute them to parties who may be interested in them.
These Calendar PDF data are non-editable.
If you want to localize calendar date text, please contact ap_poster_edu

ml.jaxa.jp .
The theme of the thirteenth APRSAF Poster Contest will be " My Home in Space ".
Past Events